The Billy Hall Story
by Jack Litchfield
The Canadian Antique Phonograph Society CD entitled "Dance Bands From Canada 1922-1930" contains three tracks by the New Princes Toronto Band. The trombonist was Billy Hall.
The presentation at the December 2003 CAPS meeting was given by long-time member Jack Litchfield and by Chris Hall who is Billy's grandson and is himself a professional musician. During the talk Jack played five records and Chris projected ninety-eight slides.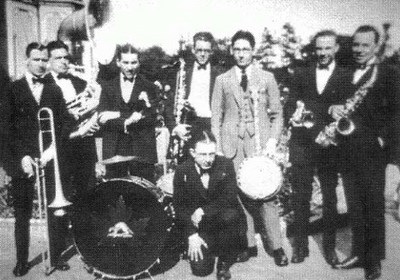 New Princes Toronto Band, 1926
(note the maple leaf and beaver design on the drum)
Billy Hall played with orchestras in Toronto, St. Marys (Ontario), London (England), Belgium, and Germany, and with military bands of the Canadian Army. While serving in France in 1916, he was wounded at the Somme, and eventually died from his wound.
More than a sought-after musician, he was also a family man, with two children and a lovely wife. His life story is an interesting combination of music and family.
New Princes Toronto Band, 1926
Billy Hall with wife Frances and son Manning, London, 1926