Rare "Talking Machines" from the Collections of CAPS Members
CAPS President Mike Bryan discusses the Bettini #8 Phonograph while CAPS member Domenic DiBernardo demonstrates this very rare machine
Edison Spring Motor Phonograph ca 1895 (Owner: Bill Tarling)
Edison received his patent on the Tinfoil Phonograph in 1878, but his attention was soon turned to the production of electricity and the development of electric light. It was only after Bell and Tainter came up with the wax cylinder, instead of tin foil strips, as a superior medium for recording, that Edison eventually renewed efforts to develop his invention. He was not immediately successful, but after a 72 hour crash development program in June 1888 he emerged from his laboratory into the daylight with his "perfected" Phonograph, a battery driven machine.
Battery power turned out to be less than satisfactory and over the next few years Edison dabbled with man powered, water powered and treadle powered machines. Since musical boxes had always been powered by clockwork motors and Edison's patent #1644 of 1878 included a spring motor in its specification, it is somewhat surprising that it took 16 years before the spring motor appeared in production models. In fact the Chicago Talking Machine Co. was the first to mount the top works of Edison's electric machines to a new base with a spring motor. The immediate success of this approach caught Edison's attention and in 1895 he launched his first production model known as the Edison Spring Motor Phonograph with a 3 spring motor. The machine on display was a fine example of the earliest of Edison's spring motor driven cylinder phonographs which appeared in may more familiar styles right through to 1929.
This model remained in production until 1901 when the case was changed to "New Style" and the machine renamed "Triumph".
Zonophone A
Zonophone A 1899-1901 (Owner: Domenic DiBernardo)
The Universal Talking Machine Company was founded in 1898 by Frank Seaman, a former colleague of Emile Berliner. Seaman recognized the potential of the lateral-cut disc and began making a range of machines and records under the Zonophone name. He manufactured these in New York and Berlin, producing machines in a wide range of case styles. The Universal Talking Machine Company had difficulty in competing with the industry giants and in 1903 was bought out by Victor. From this point Zonophone became Victor's low price line and the gramophones began to adopt Victor features.
The first Zonophone machines were the models A, B, C and D made between 1899 and 1901. The machine on display was a model A with its 7" turntable and two beveled glass sides. Models A and D are the rarest of all Zonophones, although no machines from this company could be described as common. However, the models introduced from 1901 are more often seen. From the bottom to the top of the range they are the Home, Parlor, Grand, Concert, Grand Opera and Concert Grand plus one later machine, the Royal Grand, which was produced from 1906 to 1911 when Victor ceased production of the Zonophone brand.
Dulcetto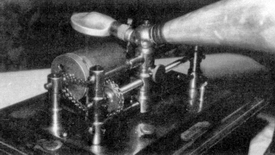 Dulcetto 1901-2 (Owner: John Peel)
Between 1896 and 1910 at least 40 models were manufactured by Columbia in the USA. At that time Columbia was the only one of the Big Three manufacturers supplying both disc and cylinder machines. In England some distributors sold Columbia machines under their own labels, one of which was Dulcetto. Sometimes the Columbia decal can be seen hiding behind the Dulcetto name on the case, but it was not so on this particular machine which was originally sold by the Phono Exchange of 44 Berners Street London. In fact, the most unusual top mechanism suggests that there may be no connection with Columbia at all. This phonograph has a regular belt drive from the double for the feed screw. We welcome enlightenment on this spring motor, but there is a chain drive on top machine and its origins from other members.
Ideal
Idéal Phonograph ca 1903 (Owner: Domenic DiBernardo)
The French phonograph industry got off the ground in 1903 when Henry Lioret introduced his small celluloid cylinders and doll phonographs. He went on to produce some other interesting machines, but the Pathé company soon dwarfed Lioret with its simple and cheap mass market machines. However, as the market expanded new phonograph companies jumped on the bandwagon. An unlikely candidate was the French religious publishing firm of Maison de la Bonne Presse which sold cylinder and disc machines under the name Ideal. This most unusual machine plays both discs and cylinders - both at the same time if you wish! Although this might have been perceived as clever and innovative, the idea did not take hold with the mainstream phonograph manufacturers, who at different times wanted to narrow the consumer's choice of record format to the one they were selling. Another notable feature of the Ideal Phonograph is the speed regulator.
Bettini #8 Phonograph 1902-08 (Owner: Domenic DiBernardo)
Bettini was a military Italian who married an American and moved to New York. Unimpressed by the sound quality of Edison's phonograph, which in 1888 was designed mainly for dictation, Bettini set out to make a better reproducer. The following year he introduced his patented "Micro Reproducer", which was a large floating reproducer equipped with a spider. Today these can still be found occasionally as attachments on the main brands of cylinder machines.
Bettini #8
Bettini's motivation had been to improve the quality of reproduction so that recorded music could be enjoyed. Having created the means to do this, he then went into the recording business, but never produced significant volumes of cylinders. In 1902 he moved to Paris where he spent the next 6 years designing and producing cylinder and disc machines. Sales of Bettini's quality machines were low, hence their rarity today. The nickel plated #8 machine on display provided a rare opportunity to see a product of the Bettini Micro-Phonograph Company.
Holzweissig Hymnophon
When we think of German machines we often think of the Puck in its various forms. However, when it comes to disc machines, Germany produced all sorts of styles ranging from lighthouses and windmills to potted plants, barrels and Greek temples - all cases housing and dis- guising disc gramophones.
Less extreme, and in less dubious taste than its beer barrel gramophone, was Holzweissig's Hymnophon, first produced as early as 1904. Unlike the inside horn machines of American manufacture, the Hymnophon's horn is not concealed, but merely set tastefully into the front of the machine.
Maestrophone ca 1906 (Owner: John Peel)
At last year's presentation we looked at a machine thought to be a Maestrophone. When we found that the motor was made in England, we began to doubt this. Later we received a suggestion from Australia that it may have been a machine assembled in India.
Maestrophone
Anyway, this time we have a machine that can more easily be identified as a Maestrophone, which was the brand name that the Swiss company Paillard gave to its range of gramophones. Paillard had been a successful cylinder music box maker during the 19th century, but by the early 1900s the talking machine had just about killed off the music box industry.
Paillard recognized the need to change and by 1906 its catalogue showed no less than 76 disc gramophones. Many were in a similar style to the machine on display, but there were also a few inside horn machines. Against this background it is interesting to find a unique feature attributed to a few Paillard models - a patented hot air motor, which operated on a half pint of spirit for 45 hours of use.
The model shown is the polished walnut Maestrophone Model #3 Tannhauser. It has a 2 spring motor which can play up to 3 10" discs.
Capitol Model O Lamp Phonograph 1919-23 (Owner: Walter Hoffman)
After the First World War several companies were inspired to produce disc machines hidden in large table lamps. There was the Fairy Phonograph Lamp made by the Endless-Graph Co. of Chicago, the Phonolamp, the Lampagraph, the Modernola (a floor model) and the Capitol Model O presented at our meeting.
This machine was made by the Burns-Pollock Electrical Mfg. Co. of Indiana Harbor, Indiana. It was available in a bronze, silver or gold finish and with a 10" or 12" turntable. This machine on dis- play is in bronze and is all original apart from the lampshade and top finial.
There has been some suggestion that these lamps became a feature in houses of ill repute. At first sight, this particular lamp seems to have been found in more innocent surroundings in the attic of a drive shed where church-goers used to tie their horses. However, its past is darkened somewhat when we learn that it was given to the original church pastor for performing the greatest number of baptisms in a year. The word among other local pas- tors was that he had only achieved this great number by "double dipping", so to speak.
CAPS John Peel demonstrates his Dulcetto Cylinder Machine
In addition to the machines brought to the meeting, photographs of two interesting machines belonging to CAPS member, Richard Frison of Alberta, were also presented.
Edison Standard A Suitcase Model ca 1898 (Owner: Richard Frison)
The two end clips of the cover indicate that this was one of the earlier machines made before 1900. What makes this machine more unusual is the Polyphone Attachment. The two reproducers track each other in the same groove about half an inch apart. It was claimed that the attachment increased volume and roundness of tone. Richard didn't quite confirm this, suggesting only that the attachment produced a slightly louder sound.
Brunswick Parisian Portable (Owner: Richard Frison)
This must have been a sleek and ultra modern machine at the time. In order to create such a flat and easily portable gramophone, Brunswick had to revert to the exterior horn principle - but with one that was made of cardboard and which folded flat into the lid of the machine. Apparently, it plays quite loudly, although sound quality suffers somewhat at the the expense of versatility.
It was great to have a contribution from an "out-of-town" member and I thank Richard and all other exhibitors for their contribution to this presentation of machines that most of us so rarely have the opportunity to see and hear.
Sources
The Edison Cylinder Phonographs 1877-1929 by George Frow
The Compleat Talking Machine by Eric Reiss >LI>Talking Machines by VK Chew
The Illustrated History of the Phonograph by Daniel Marty
The Talking Machine. An Illustrated Compendium 1877- 1929 by Fabrizio and Paul
Maestrophone catalogue
Vitaphone brochure
Roll Back the Years by Edward Moogk