The Golden Age of Children's Records
Edison's "Talking Doll", 1890
In Etude Magazine, February, 1947 ("My Father and Music"), Charles Edison described his father working on a device to improve the telephone. Suddenly he heard the machine mirroring the human voice. "Gee, Whitakers!", he said. "The gol-durned thing talked back at me!"
Edison's "Talking Doll" housed a 1 inch gramophone. By turning a crank in the dolls back, the wax cylinder implanted in the doll would recite whatever rhyme had been inscribed at the factory. Scientific American Magazine, of April 26, 1890, gave a complete description of the mechanism, stating: "The factory has at present a capacity for making about 500 talking dolls a day!"
From the beginning, phonograph advertising focused on children through trade cards, magazine ads, postcards and jigsaw puzzles. The invention of the flat disc and the turntable inspired a variety of phonograph toys: Ragtime Rastus and the Magnetic Dancers powered by the spindle (National Toy Co., Boston 1915), primitive talking picture fairy tales (Edison — Bell Picturegram, London), The Gramophone Cinema or Kinephone (Decca, Germany).
Discs for children's toy phonographs proliferated, both one and two-sided, varying in size from 5 to 7 inches. The Bing-Wolf Co., New York City, issued hundreds of "Little Wonder" records for its Pigmyphone, as did Grey Gull, Cameo Kids, Lindstrom, Emerson, Movie-Jekror, Victor Talking Machine, and His Master's Voice.
At the same time that book publishers began to take literature for children more seriously by appointing children's book editors to their staff, so recording companies became more creative. Allen Koenigsberg suggests that one man of bold imagination, Victor Hugo Emerson, played a driving role in inventing and developing several remarkable series of records for children.
Fig. 1. Cover of an early Bobolink Book
1913 — 1921 Bobolink Books
Whether this series was the earliest of the quality albums produced for children is uncertain, as the ambiguous dating makes it difficult to unravel the production history. Here we have an outstanding collaboration of several art forms.
Each oblong paperboard book contained four nursery songs, story and complete piano — vocal score with four full-page color illustrations on coated paper. Apparently, supplied separately were two double-faced seven inch discs in picture sleeves, not fitted into the covers of the book. This suggests a strong possibility that the books were published in England originally as songbooks, then bought up by La Velle/Gilbert who appended the records, following meticulously the printed scores. As was customary in early children's records, the orchestral accompaniments are full of imaginative sound effects. Some record sleeves and record labels were marked La Velle, others Gilbert, but the Bobolink logo remained unchanged.
A back cover lists: Songbooks 1-4, Reading Book 1-2, Game Book 1, and "others in preparation".
Early title page (copyrighted 1913): La Velle Bobolink Book, Song Book No. 4 "Mother Goose and Her Fairy Land Friends" (Fig. 1) by Josephine Woods. Illustrated by Dorothy M. Wheeler (from A & C. Black Ltd., London) [A handsome cover ill. by Maud & Petersham]. The La Velle Mfg. Co., New Haven, Conn.
Later title page (copyrighted 1921): Gilbert Bobolink Book, Song Book No. 2 "Songs, Games and Stories", arranged by Robt. Foresman. Illustrated by Willy Pogany. The A.C. Gilbert Co., New Haven; Conn.
Fig 2. The first Bubble Book of 1917 (illustrated by Rhoda Chase)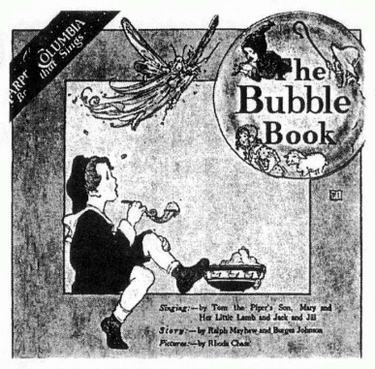 1917 — 1930 Bubble Books
The Bubble Books have become the most noted of all the early series, and for good reason. Emerson (?) brought together a great recording company, Columbia Graphophone, an equally great book publisher, Harper (Hodder-Stoughton in England), and a notable artist, Rhoda Chase. The editor conceived the truly original idea of a boy blowing bubbles (Fig. 2), imagining that he sees within the bubbles all of the wonderful events that take place in the songs. This concept is sustained throughout the fourteen books by a gifted artist, who has skilfully integrated the exquisite color illustrations into the narrative texts.
The books were issued initially (1917 — 1922) with three one-sided discs of 5/8 inch diameter. When Victor Talking Machine first produced double-faced discs, they took over the copyright, combining two books in one with larger 7 inch discs. In 1924 Victor re-issued six books, omitting books 8 and 9; in 1930 they added two new books, 15 and 16. Then in 1930, Columbia re-acquired the copyright with Dodd, Mead as publisher, and re- issued four books, 13 — 16, in the original, small format. Each album contained two discs, one single, one double, recorded electrically.
1917 No. 1. The Bubble Book No. 2. Second Bubble Book No. 3. Third Bubble Book 1918 No. 4. Animal Bubble Book No. 5. Pie Party Bubble Book 1919 No. 6. Pet Bubble Book No. 7. Funny Froggy Bubble Book No. 8. Happy-Go-Lucky Bubble Book No. 9. Merry Midgets Bubble Book 1920 No. 10. Little Mischief Bubble Book No. 11. Tippy Toe Bubble Book No. 12. Gay Games Bubble Book No. 13. Child's Garden of Verses Bubble Book No. 14. Chimney Corner Bubble Book 1930 No. 15. Robin and Wren Bubble Book No. 16. Higglety-Pigglety Bubble Book
1918 — 1919 Talking Books
This series of some twenty-two records published by The Talking Book Corp., of New York City (1918 — 1919), was utterly unique. Each 4 1/8 inch disc is riveted to the face of a die-cut card, varying in size from 6 1/2 x 9 1/2 inches to dimensions one to two inches larger, depending on the cut-out shape of the figure. The entire die-cut is placed on the spindle (Fig. 3). On the back of each card a story is told in verse or prose, or in a music score. The record does not necessarily follow the text exactly, but is always dramatic and rich in sound effects. No artist is credited with these handsome cards, and only occasionally is the performer named. Half of the cards represent animals, the others typical childhood genre.
Fig 3. Talking Book Record, "I am Your Uncle Sam" (1918)
This listing is in order of matrix number:
I Am a Parrot
I Am a Lion
The Mocking Bird
Mother Goose Talking Book
I Am a Dancing Girl
I Am Your Uncle Sam
The Hip-Po-Pot-A-Mus
Santa Claus, The Night Before Christmas
The Tiger
The Fox
Christmas Carol
The Choir Boy
The Elephant
Watermelon Coon
The Tired Baby
The Little Hieland Mon
Twilight and Dawn in Birdland
The Camel
The Frog
The Battle of the Marne
Submarine Attack
The Victory Book
Fig 4. From a 1922 Kiddie Rekord Album (illustrated by Clara M. Burd)
1922 — Kiddie Rekord Albums
In 1922 two albums were published by the Kiddie Rekord Co., Plainfield, New Jersey, and issued (2) simultaneously in England. Each album contained six 5 7/8 inch discs, the entire non-playing side covered with a color paste-on illustrating a single nursery rhyme. These were not picture discs in the truest sense, but handsomely painted by Clara Burd and Mr. Helguerd. An 8 volume book, Mother Goose in Song and Story (Fig. 4), with full music score, text and illustrations accompanied each album.
Album one: Three Little Kittens / Old King Cole / Mary Had a Little Lamb / Jack and Jill / Little Bo-Peep / Tom, Tom the Piper's Son
Album two: Ding Dong Bell / Sing a Song of Sixpence / Hey Diddle Diddle / Little Boy Blue/ Old Mother Goose/ Old Mother Hubbard
1923 — Pictorial Record Albums
In 1923 were published the Pictorial "Metallized" Records (New Record Corp., Brooklyn, New York), Parts One and Two. These two albums were a re-issue of the Kiddie Rekords recorded by different musicians on six two-sided discs instead of twelve singles. They were packaged in two gate-fold albums together with a small songbook. These were true picture discs, probably the first for children. Although the similarity between the Kiddie Rekords and the Pictorials is readily apparent, the difference is even more striking. The original twelve paste-ons look like clear color photographs; the six shellacked picture discs glow like miniature oil paintings.
Parts One and Two parallel Albums One and Two above, except that the order has been changed, as well as the musical arrangements.
1923 — 1937 Little Tots Albums
This wonderful series of ten albums was first issued by the Regal Record Co., New York, with the title "Little Tot's Nursery Tunes: Songs, Games, Stories on Records" (Fig. 5). There were many production changes during the fourteen-year span. The distinguishing feature of this long series is the art work which remained consistent until 1937. Each album, containing 3 or 4 two-sided discs, was accompanied by 6 to 8 beautifully coloured cards, slightly larger than postcards. There must have been some 78 cards in all, illustrating each nursery rhyme with text on the reverse side. The artist, Maud Trube, was certainly of the stature of Jessie Wilcox Smith.
Fig 5. Little Tots Album Number 4
After 1937, the records were issued for many years under the label "Playtime Records", but without albums or cards.
On the cover of each album was pasted a reproduction of a Maud Trube card with the album title below:
1. Merry Song Book
2. Happy Day Book
3. Jolly Game Book
4. Story Hour Book
5. Christmas Book
6. Lullaby Book
7. Patriotic Book
8. Meddley Book
9. Sunshine Book
10. Mother Goose Book
In all of these series the publishers fused music, art and literature with vivid imagination. Children must have anticipated eagerly each new issue. During two scant decades these memorable books and records were created for children to read, to sing, to play, to love. Truly, a Golden Age!
About The Author:
Diana R. Tillson received her AB from Smith in 1938, her MA from New York University in 1939, and a PhD equivalency in 1970, after studies in Austria, France, Canada, and Japan. She is a professional violinist. Her considerable personal collection is now constituted as "The Diana R. Tillson Historical Children's Music Collection" at Princeton University, a transformation mediated by the noted dealer in children's books, Justin Schiller, for sale to the noted collector of children's books, Lloyd E. Cotsen, by whose philanthropy it will be available for scholarly examination. Ms. Tillson is author of "Children's Musical Play: the Role ofthe Phonograph" (Ephemera Journal 1994; 6:86-98). She is interested in making contact with any collector who shares her interest or who may have available vintage children's records or related ephemera. Please contact the Editor of Antique Phonograph News for further information.