Autograph Musical Notations:
Key signatures to give music lover's hearts a hemidemisemiquaver
"Un bel di" from Puccini's Madama Butterfly datelined
Torre del Lago, the composer's home north of Pisa.
"May 8 1891: Am beginning to have difficulties finding time for letters and this diary. Visitors besiege me...but the main thing is whole piles of letters from all parts of America with requests for autographs to which I reply very conscientiously. Was at the rehearsal of the Piano Concerto... the rehearsal went off all right." (The Diaries of Tchaikovsky [Westport, Conn., 1973]).
Peter Ilyich Tchaikovsky was in New York City on the day he wrote that diary entry. He'd been invited to conduct a series of concerts inaugurating New Yorks brand-new Music Hall, later re-named Carnegie Hall.
On at least one of the many autographs he wrote that day he added a musical quotation — the famous opening theme from his Piano Concerto No. 1, the work he'd referred to in his diary. That autograph is now one of the prize items in my collection of more than 200 different composers' autograph musical notations, a collection unique in Canada but by no means without precedent or parallel elsewhere.
It was in 1970, while seeking a bit of authentic memorabilia of my favorite composer, Sergei Rachmaninoff, that I discovered composers had been writing out bits of their music as souvenirs for friends and admirers for at least 300 years. (The earliest known musical album-leaf, as they are called, is a signed quotation from Lachrimae by the Elizabethan composer John Dowland, dating from about 1604.)
The realization that I could own such musical autographs appealed to me immediately, as it has to other music-lovers for generations. Musical album-leaves are visually attractive historical links with the geniuses of music, holding near-mystical fascination for me because a composer's handwritten notes represent the first permanent physical embodiment of the music itself, the composer's inner inspiration made tangible.
No less prized by collectors than autograph notations are the caricatures by the operatic tenor Enrico Caruso, such as this one, of himself, executed with a swift and very sure hand.
Perhaps sensing this, most composers have readily participated in a tradition of writing out album-leaves. The conscientious Tchaikovsky was one example; another was Richard Wagner, recorded in his wife Cosima's diary as diligently writing out "a new album- leaf" for the wife of her friend Wilhelm Neumann.
Now, that particular Wagner autograph, along with the Tchaikovsky, and with musical quotations written out by Brahms, Mendelssohn and Dvorak, occupy a "superstar" page in the special album that houses my collection.
In my album, thanks to its size (45 by 36 cm sheets of acetate covering the same size leaves of acid- free paper), I've often grouped related autographs together. Quotations from the famous operatic double bill of Mascagni's Cavalleria Rusticana and Leoncavallo's I Pagliacci share a page, as do album- leaves from Gian Carlo Menotti and Samuel Barber, who lived together for many years. One page is devoted to composers of film and concert music — Erich Wolfgang Korngold, Miklés Rézsa and John Williams — while another celebrates such great operetta composers as Offenbach, Lehdr, Sigmund Romberg and Johann Strauss Jr.
No sooner did I learn, during my Rachmaninoff search, that composers expected to write out bars of their music for collectors than I sent off my first set of letters to ten of my favorite living composers, asking "please" and saying "thank you" for a particular theme and enclosing a self addressed envelope with an international reply coupon to cover return postage. I really didn't expect much response, but within a few weeks I had heard from most of them, including Aaron Copland, Benjamin Britten, Leonard Bernstein and Carl Orff.
I've since written to nearly a hundred other contemporary composers, and with very few exceptions they have proved quite willing to oblige me. Even composers who didn't answer my written requests acquiesced in person, when I interviewed them for a magazine article and then confronted them with some blank music paper and a photocopy of the desired bars. That's how I added the previously unresponsive John Cage, Krzysztof Penderecki and Elliott Carter to my album. The photocopy? I take that because I dis- covered from my earliest face-to-face requests that composers can't always remember exactly the key or rhythm of one of their themes, no matter how familiar to the rest of us.
One of the most difficult contemporary composers to get was the reclusive late Soviet giant, Dmitri Shostakovich. He was one of the first composers I wrote to, and in November 1970 I finally received the quotation I had asked for, the haunting "Passacaglia" theme from his Violin Concerto No. 1, music composed for and dedicated to the great violinist David Oistrakh. When Oistrakh came to Toronto in February 1972, I brought the autograph for him to sign as well. Oistrakh asked, "How did you get this? Shostakovich almost never does this for people."
Opening of Tchaikovsky's Piano Concerto No. 1.
I was not aware at that time just how often composers receive such requests. A few years later, when I met the American avant-garde composer George Crumb in Toronto, I thanked him for having responded to my request the previous year. "Which one was that?" he asked, explaining that he receives between ten and 15 requests every year. Imagine, then, how many more requests a figure like Shostakovich must have received. I suddenly appreciated my own persistence.
There are several dozen autograph dealers in the United States and Europe (though none in Canada) who sell letters, manuscripts, documents and signed photos of historical figures — composers, royalty, authors, scientists, sports and movie stars and the like.
Photos and concert programs signed by composers and performers appear frequently in dealers' catalogues, as do the clever caricatures that the immortal tenor Enrico Caruso drew of himself and his colleagues. (I have one of those, too, a Caruso caricature of himself, framed and occupying a bit of the wall previously taken by my album-leaves.) Every eight months the world's largest autograph dealer, J.A. Stargardt in Marburg, West Germany, offers at auction some 1,400 items, of which about 250 are related to music.
Prices for musical album-leaves depend on the fame of the composer, the rarity of examples of his/her notation, the condition of the specific item, the length of the quotation and the familiarity of the particular work quoted. My quotation from Elgar's Pomp and Circumstance March No. 1 is obviously more desirable, and more valuable (about $1000), than one from his little-known cantata King Olaf (about $500).
Album-leaves of most 19th- and 20th- century composers sell at prices in the hundreds of dollars, although the most famous can run in the low-to-middle thousands. Examples of the notations of Bach, Handel, Haydn, Mozart, Beethoven and Schubert are virtually unobtainable; the occasional offering of their notations at auction brings bids well into five, or even six, figures.
Sergei Rachmaninoff: opening of Symphony No. 2, a souvenir written out for recording executive
Frederick Gaisberg.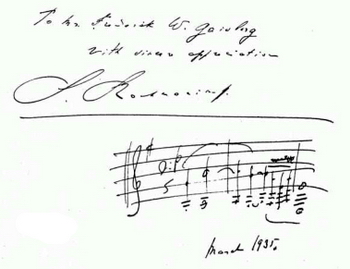 Some 19th- and 20th- century composers' album- leaves are exceptionally rare because of short lives (Bizet, Mendelssohn, Schubert, Chopin, Mussorgsky) or unrecognized talents (Anton Bruckner and Gustav Mahler wrote few album-leaves because their music was largely ignored during their lifetimes; there were few admirers and few requests). Some were simply stingy. Rossini and Verdi, though famous throughout most of their long lives, were far less generous than their equally famous though shorter-lived compatriot, Puccini. (Puccini album-leaves are thus much more common, and much more affordable.)
The best price, of course, is gratis, and slightly more than half my collection is made up of items obtained free from living composers. A few are particularly unusual in appearance, because many contemporary composers no longer feel bound to the traditional use of notes and five-line staves. As a result, I now possess such novelties as the multicolored graphic notation of John Wyre, the electronic specifications of Ann Southam and the piano-roll perforations of Robert Daigneault, all three talented Toronto composers.
As I turn the pages of my album, the themes from more than 200 works are recalled, each represented by its composer's own characteristic meticulous or sloppy calligraphy. Because I first learned about album-leaves when looking for a souvenir of Rachmaninoff, given pride of place in my album, on the very first page, is a quotation from my favorite of his works, the Symphony No. 2.
Rachmaninoff wrote out the symphony's opening bars for Frederick Gaisberg, the distinguished artists- and-repertoire director of HMV Records during the 1930s and forties, and also a collector of album-leaves. Gaisberg's collection was broken up and sold after his death, and I now own several other items from it, including album-leaves from Bartok and Prokofieff. I think Gaisberg would have been pleased that his autographs continue to provide that unique pleasure perhaps best described by Irving Wallace, himself a collector, in his novel The Seven Minutes (New York, 1969): "There was something about the heroes and rulers and creators and martyrs of other centuries that was unbelievable, as if they were inventions from folklore. But here [collecting autographs], you could have that intimacy of long ago, for your own and in your own house. You could touch history and know it had been true."