Talking Machine World, August 15, 1917, p. 39: "W. M. Knapp, for the past four and a half years manager of Heintzman & Co.'s Victrola department, has gone to Owen Sound, where he will have charge of the National Table Co.'s phonograph branch."

In Roll Back The Years, Edward Moogk (National Library of Canada, 1975) p. 63-64 mentioned: "During 1917...In Owen Sound, the National Table Co. Ltd. began promoting its Knapp phonograph."

The National Table Company of Owen Sound was established about 1898 when W. H. Merritt purchased some land at what would later be known as 1882 3rd Ave. East between the shore and the C.P.R. line, from J. H. McLauchlan. A three-storey factory building was built. It was soon destroyed in a fire, but was re-built. They had another fire on Christmas Day, 1903, and had to re-build again. In 1909, the company had 50 on staff, and produced military desks, solid wood tables, and dining room suites. In 1917, the firm began manufacturing Knapp and later Imperial phonographs. By 1940 their lines includes radios, sewing and television cabinets, but plastics would soon cause competition. W. H. Merritt passed away in 1940, and his son Hamilton Merritt took over as President, with Arthur Moore acting as Manager. The plant eventually closed in 1960. Its site later became the Bayshore Centre (Harry Lumley arena).

---
Canadian Music Trades Journal
, September, 1917, p. 66 and October, 1917, p. 40.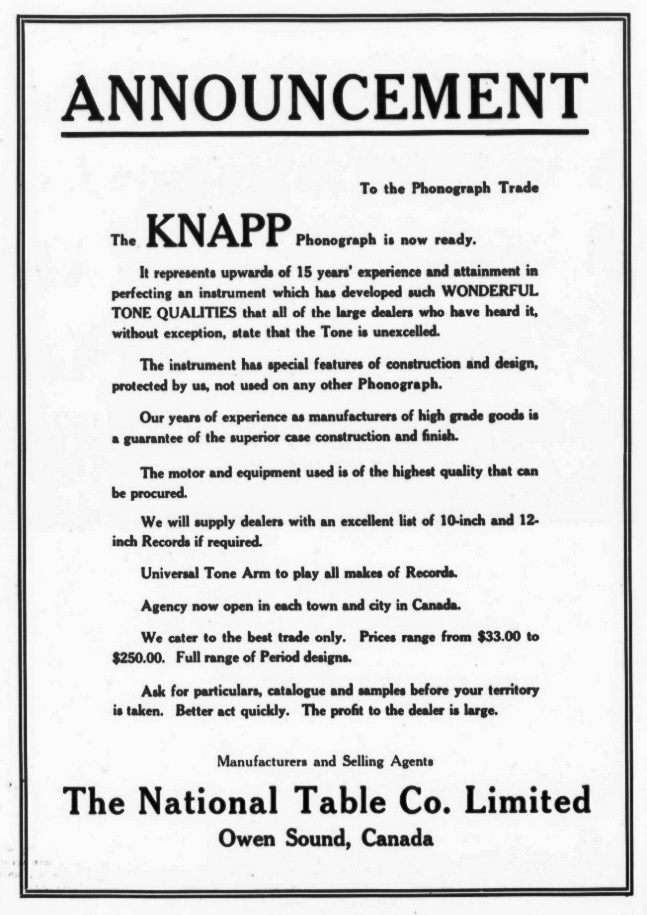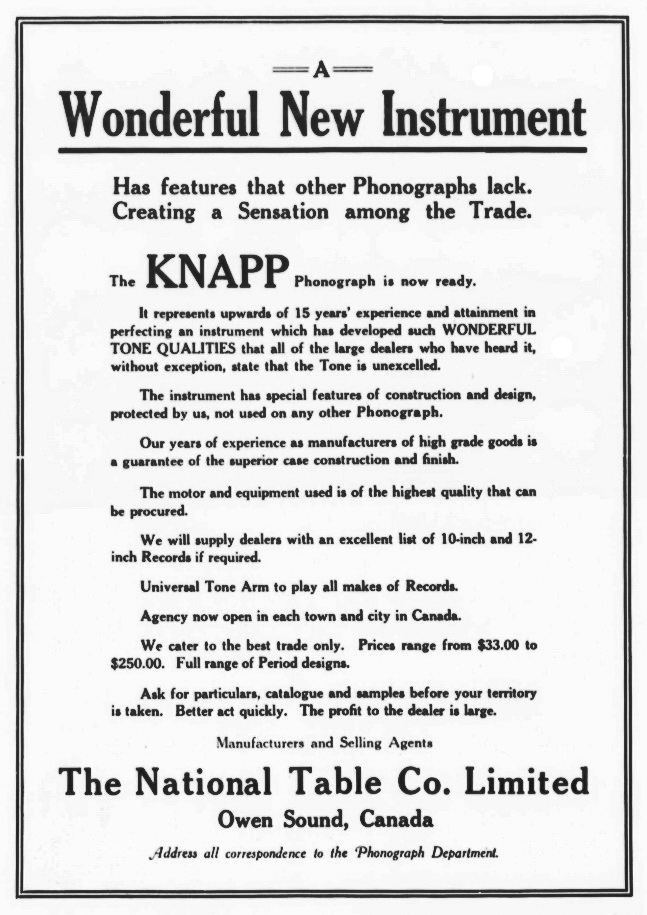 CMTJ
, November, 1917, p. 66 and March, 1918, p. 84.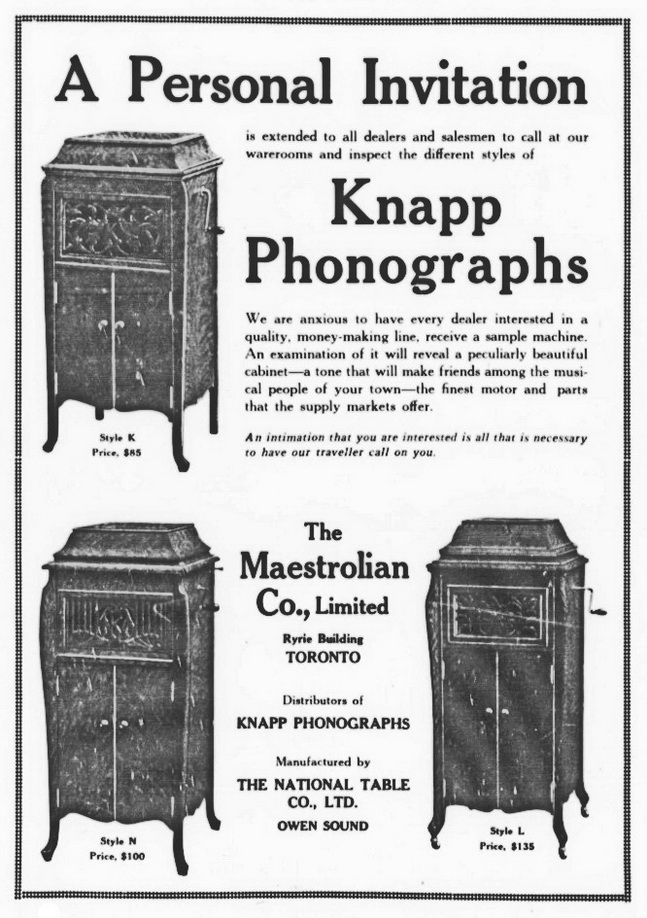 CMTJ
, September, 1918, p. 78.
---
A Knapp tabletop phonograph Type M.
---
Blain McCutchen contributes the following small 'catalogue':
---
As the document mentions, the Maestrolian company had offices in the 'New Ryrie Building' at the corner of Shuter and Yonge in Toronto. That gave me a great excuse to photograph the wonderful building that was still there in November, 2008. The Government of Ontario Archives has the following to say:
"Ryrie Building, 229 Yonge St., 1891; additions and alterations by Burke, Horwood & White, 1913-14; ground floor and basement remodelled for Muirhead's Grille and Cafeteria, Norman A. Armstrong, 1934. The Ryrie Brothers owned the most prestigious jewellery business in Toronto at the time this office building was re-modelled out of two existing structures by Burke, Horwood & White in 1913. While the Ryries had their retail business down the street in "Diamond Hall" located at Yonge and Adelaide streets, this building at the corner of Shuter Street was an investment property. The Ryrie name survives in the Ryrie Building, but no longer in the jewellery business.
"Ryrie Brothers amalgamated with Montreal jewellers Henry Birks & Son following the death of one of the three Ryrie brothers in 1917, and later in the 1930s another Toronto jeweller joined the company to form Ryrie-Birks-Ellis. For many years since however, the firm has been simply known as Birks.
"The Ryrie Building is a square, conservative structure, most notable for its varied fenestration, the arrangement and design of its windows and doors. There are trios of sash-windows at the top, a double-height arcade in the middle, and at the bottom the walls are virtually all glass."
Photos by KW--fall 2008: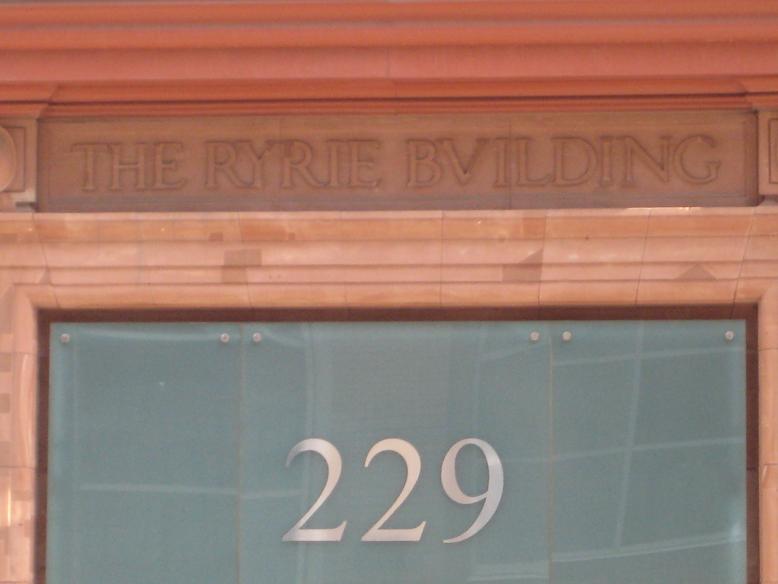 ---