Downright Upright, A History of the Canadian Piano Industry, by Wayne Kelly, 1991, Natural Heritage/Natural History Inc.:

pg. 93--"...Plaola - possibly a name taken over by [R.S.] Williams and used on a player-piano line."

pg.117--"Plaola Piano Company--Oshawa. Manufactured player pianos only. Possibly a subsidiary of R.S. Williams c. 1910."

Talking Machine World, June 15, 1919, p. 79: "The Virgil Phonograph has been put on the market by a concern in Oshawa, Ont."

---
Jim Carino wrote of his Virgil gramophone, by the Plaola Piano Company, for Antique Phonograph News here:
http://www.capsnews.org/apn2012-6.htm
The following images are of his machine, taken in November, 2011:
---
Toronto Daily Star
, May 17, 1919, p. 6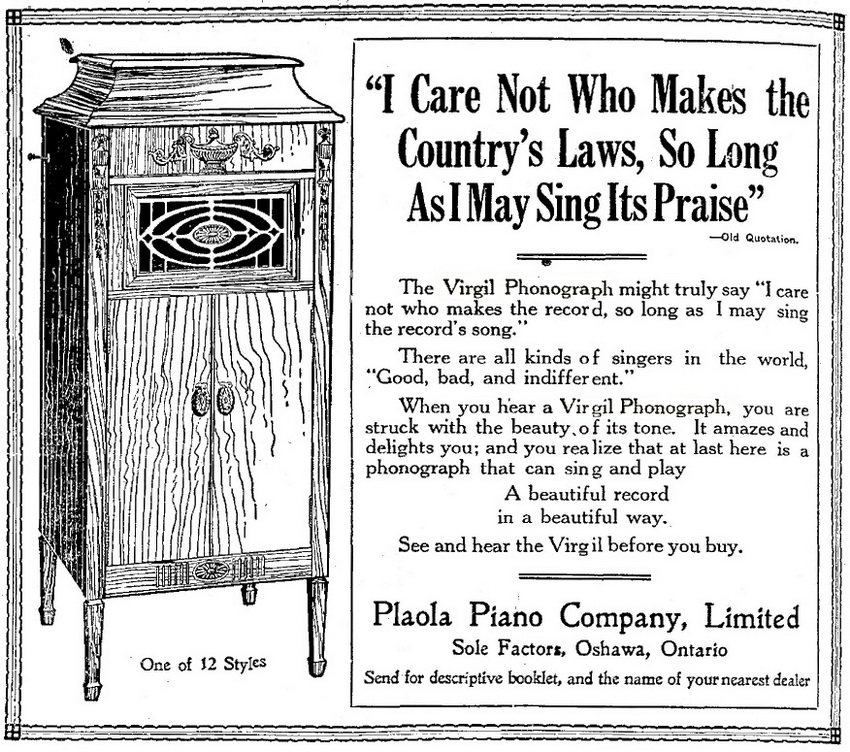 TDS
, October 11, 1919, p. 3
Toronto Daily Star
, October 14, 1920, p. 14