Talking Machine World, September 15, 1917, p. 39: "The George McLagan Furniture Co., Ltd., Stratford, Ont., wholesale furniture manufacturers, are entering the phonograph manufacturing field with a high-grade instrument which will play every make of disc record. A complete line is coming through the factory and will be offered the trade shortly."

CAPS member Blain McCutchen wrote an article on McLagan overall, including information from these pages. The article can be viewed here: http://www.capsnews.org/apn2016-4.htm

According to Edward Moogk in Roll Back The Years (National Library of Canada, 1975) "During 1917...in Ontario, the George McLagan Furniture Co. Ltd. of Stratford announced the introduction of a "strictly high-grade instrument" and a "superior" catalogue of 10- and 12-inch records. (pg. 63)

"The lateral-cut Lyric records from McLagan were among imports that also included the Fonotopia, Jumbo, and Odeon from Britain and Italy." (pg. 65)

"The McLagan Phonograph Company of Stratford, Ontario, announced early in 1926 that its Phonothetic would mark the beginning of "A New Chapter in the Chronicling of Phonograph History" and then went on to say:

The ability of master in the craft (cabinet-making) is not the great purpose of this instrument. It is to present to the world a means of reproducing with incomparable beauty of tone, perfect interpretation and wondrous volume, the creations of the world's greatest artists and musical organisations. Music, as reproduced through the scientific mechanism and constructional features of the Phonothetic McLagan, is music with all its true value. The range of tone embraces the entire chromatic scale. The reproduction of the highest notes of voices or instrument is accomplished with ease and perfection, as is the heavy bass with full, rounded tone." (pgs. 109-110)

"...in 1927, the McLagan Phonograph Corporation formed a subsidiary, McLagan-Erla Limited, which would market a new McLagan-Erla radio throughout the country." (pg. 117)

(the following image is from page 64)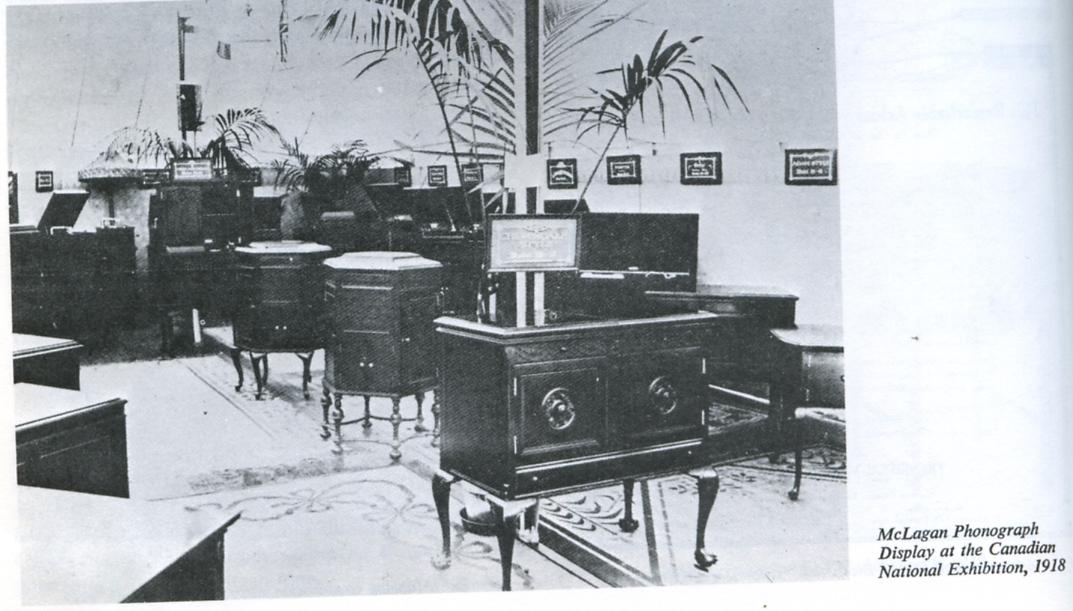 Betty Minaker Pratt supplies the following page from Canadian Music Trades Journal of August, 1917 (page 61, Toronto Reference Library) which is likely the reference for the first quote by Moogk above:




Page 31-32 from:

Stratford: Its Heritage and Its Festival
By Carolynn Bart-Riedstra, Lutzen Riedstra
Photographs by Terry Manzo
Contributor Richard Monette, Terry Manzo
Published by James Lorimer & Company, 1999
ISBN 155028634X, 9781550286342

Text reads:

"With rail transportation readily available in six directions and Stratford's location in the centre of southeastern Ontario, industry had good access ot markets across North America...The largest of these industries was furniture...[which] started to develop when the Porteous and McLagan factory was established in 1885...The factory on Trinity and Douro Streets had expanded greatly by the time of McLagan's death in 1918." (Porteous retired in 1898.)

This is page 39 which mentions that, "McLagan Phonograph Ltd. emerged as its own company in 1916 to continue as the largest maker of radio and phonograph cabinets in Canada."




Illustration of the McLagan factory.


---
Machine outside of Peterborough, September 2008 (pictures by KW):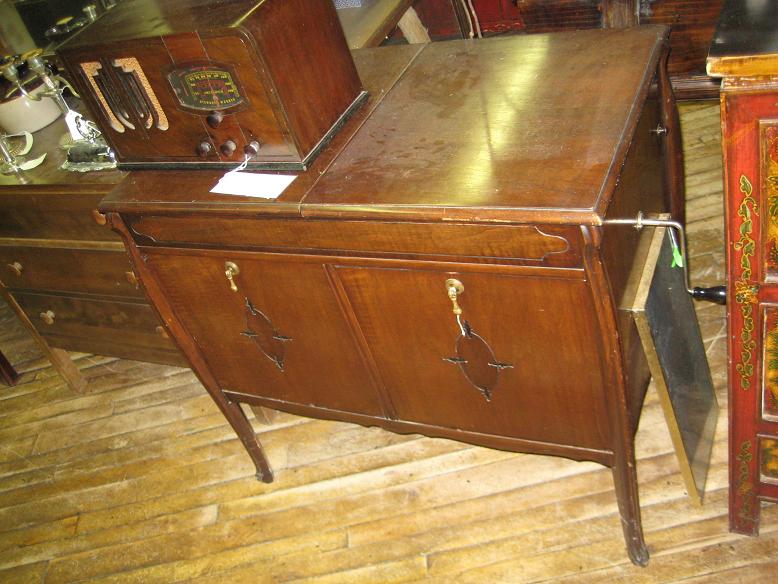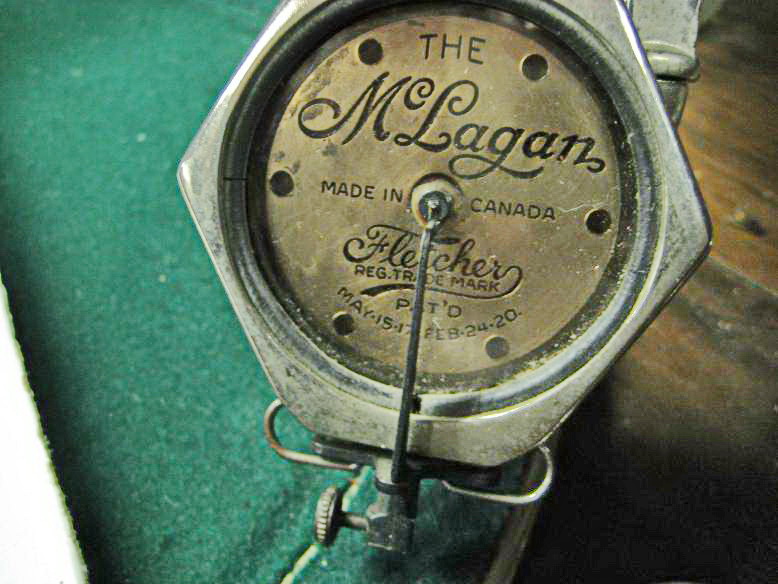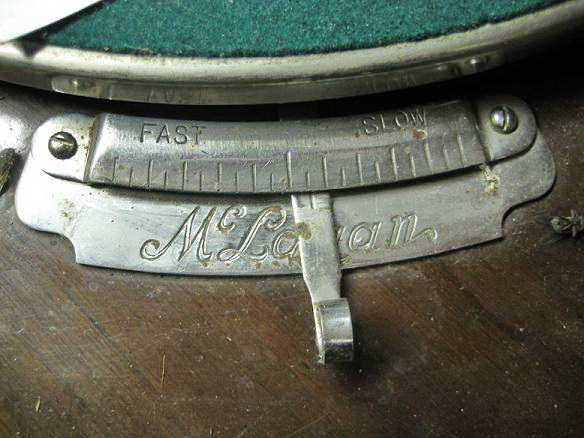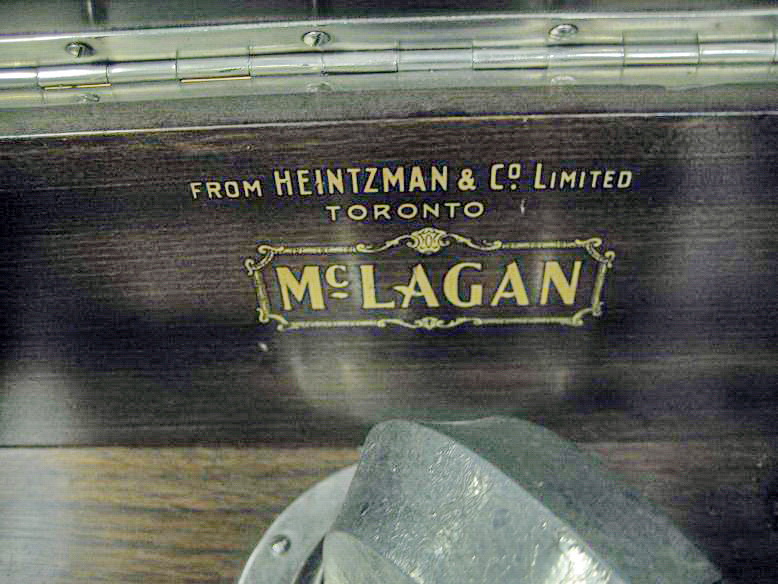 ---
Betty Pratt contributes the following, dated November 24, 2003 ("Stratford: A City of Memory"):
Although the GTR [Grand Trunk Railroad] was the biggest employer in town, there were other industries. In 1886 the first major furniture factory, owned by George McLagan, began another industrial boom in Stratford . McLagan designed his own furniture and the Toronto press said he "probably contributed more to the industry than any other man in Canada."
Detail from a Toronto Star Ad of August 29, 1918:
Canadian Music Trades Journal
, September, 1918, p. 53.
Detail from a Toronto Star Ad of Sept. 23, 1920:
Toronto Daily Star
, February 10, 1922, p. 8.
Toronto Daily Star
, March 16, 1923, p. 2.
Toronto Daily Star
, September 13, 1923, p. 2.
---
McLagan Stratford Booklet, 1918, Collection of Bill and Betty Pratt (The Printer is Rous & Mann, Ltd, Toronto):
Blaine McCutchen contributes the following guarantee:
As well as the following fold-out brochure:
Front
Back
Opened at first fold
Opened at second fold
Opened completely and shown in parts (in some cases with scans pasted together)
---
McLagan Phonothetic model on FB Marketplace in 2023: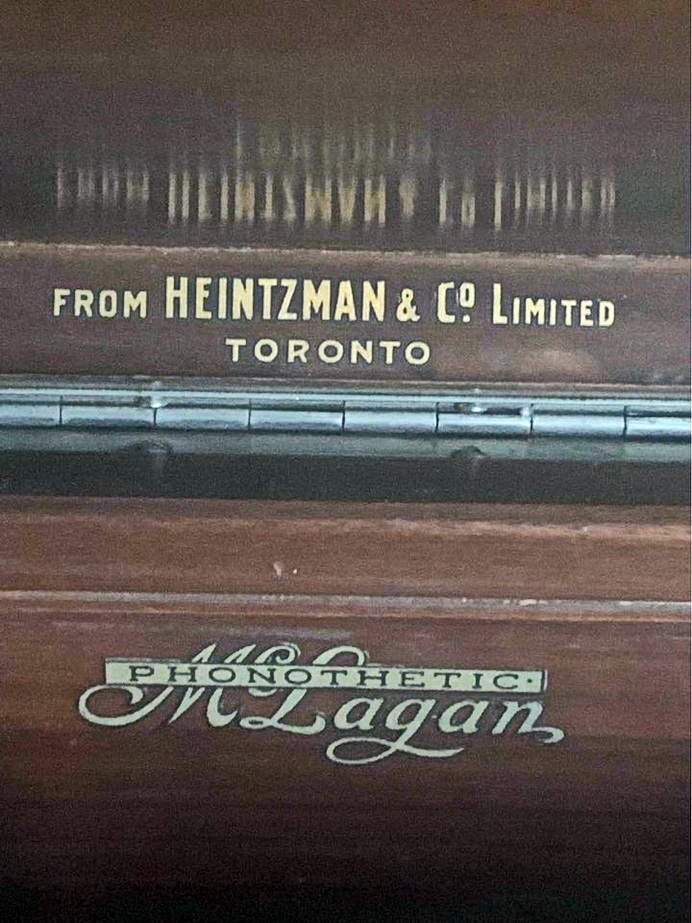 ---
Carol Martin contributes the following images of her machine: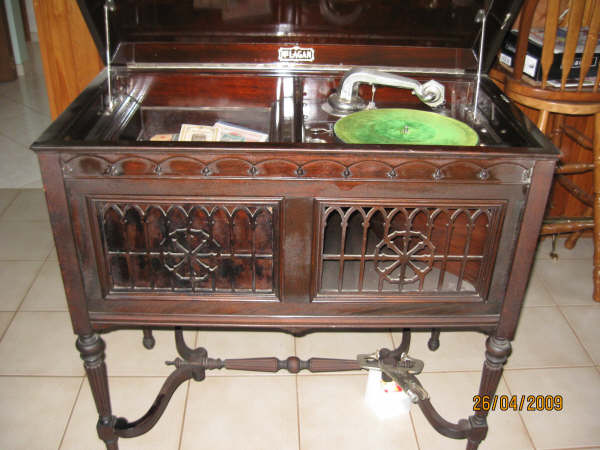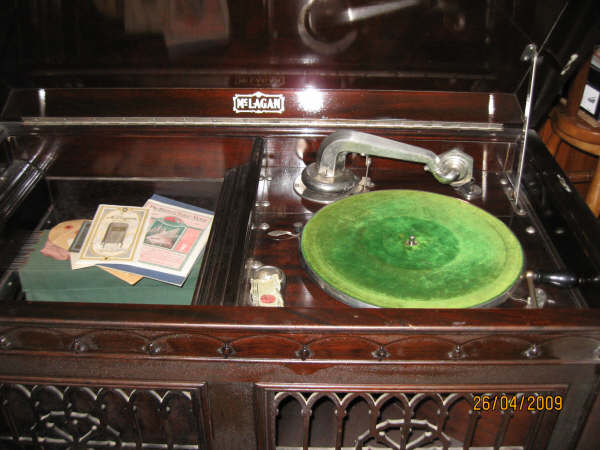 ---
On line I found a picture of the Fletcher reproducer and have come to the conclusion that McLagan bought them from a Chicago supplier:
---
A McLagan phonograph for sale online in 2022: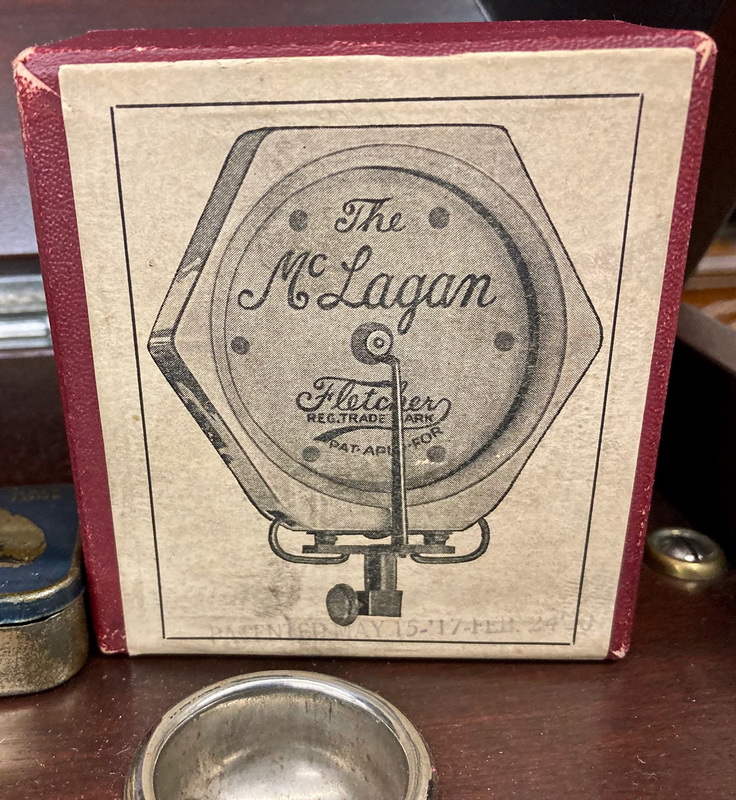 ---
A Model M19, Louis XVI Period, McLagan for sale in North Dundas, Ontario in 2023. Submitted by Steve Redman.
---
A McLagan for sale in Richmond, B.C. in 2023.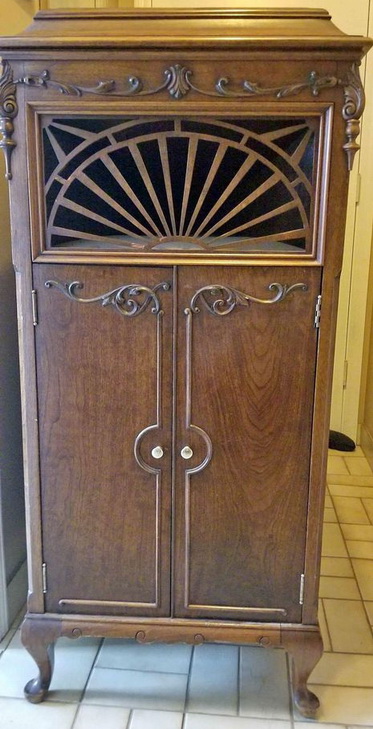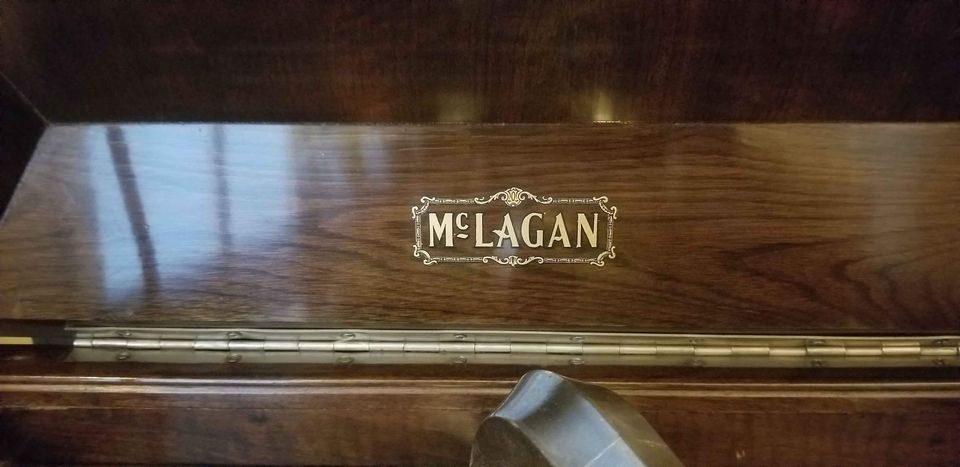 ---
A console model McLagan for sale in 2023 in Comox, B.C., supplied by Lance Husoy.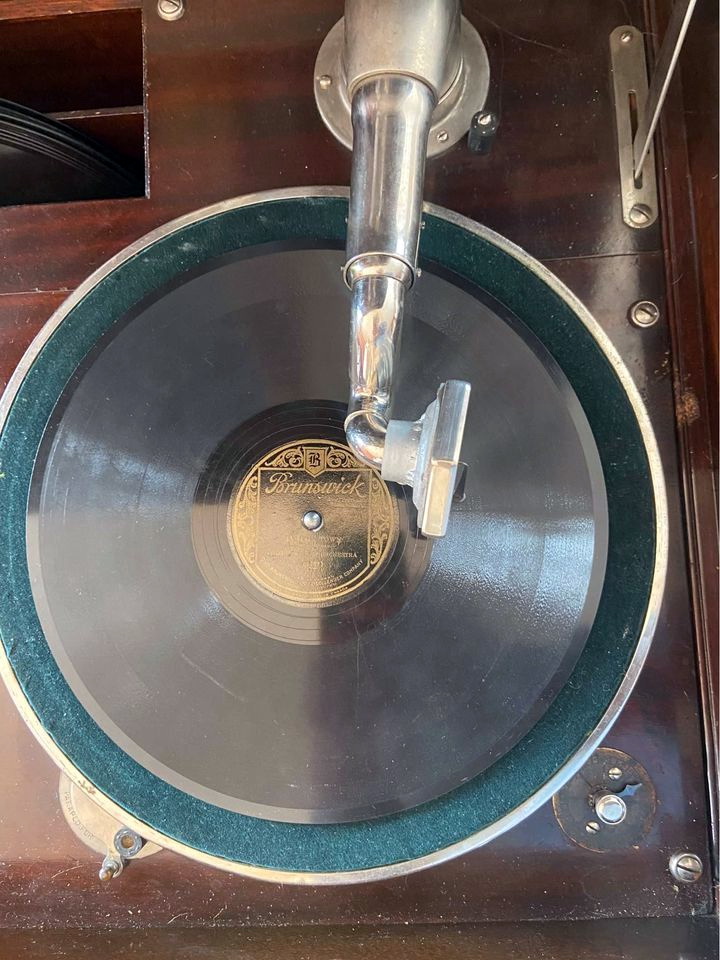 ---
A console model McLagan for sale through a Mad Picker Antiques & Collectibles online auction in 2023. Submitted by Lance Husoy.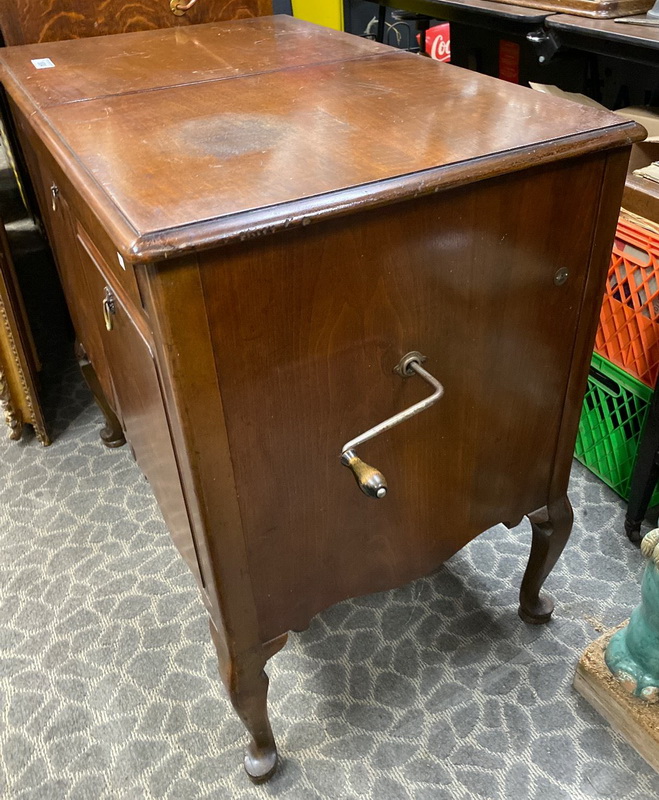 ---
Introduced in late 1923 by the Audak Company in New York, USA, the Audak system was a record demonstration device doing away with the necessity of listening booths. In Canada, it was manufactured by the McLagan Phonograph Corp., Ltd.
Talking Machine World
, October 15, 1924, p. 25.
In 1924 the Audak Company introduced the Selectron which was a device intended to play the sound from an attached radio unit through the horn of a phonograph. In Canada, it was manufactured by the McLagan Phonograph Corp., Ltd.
TMW
, October 15, 1924, p. 91.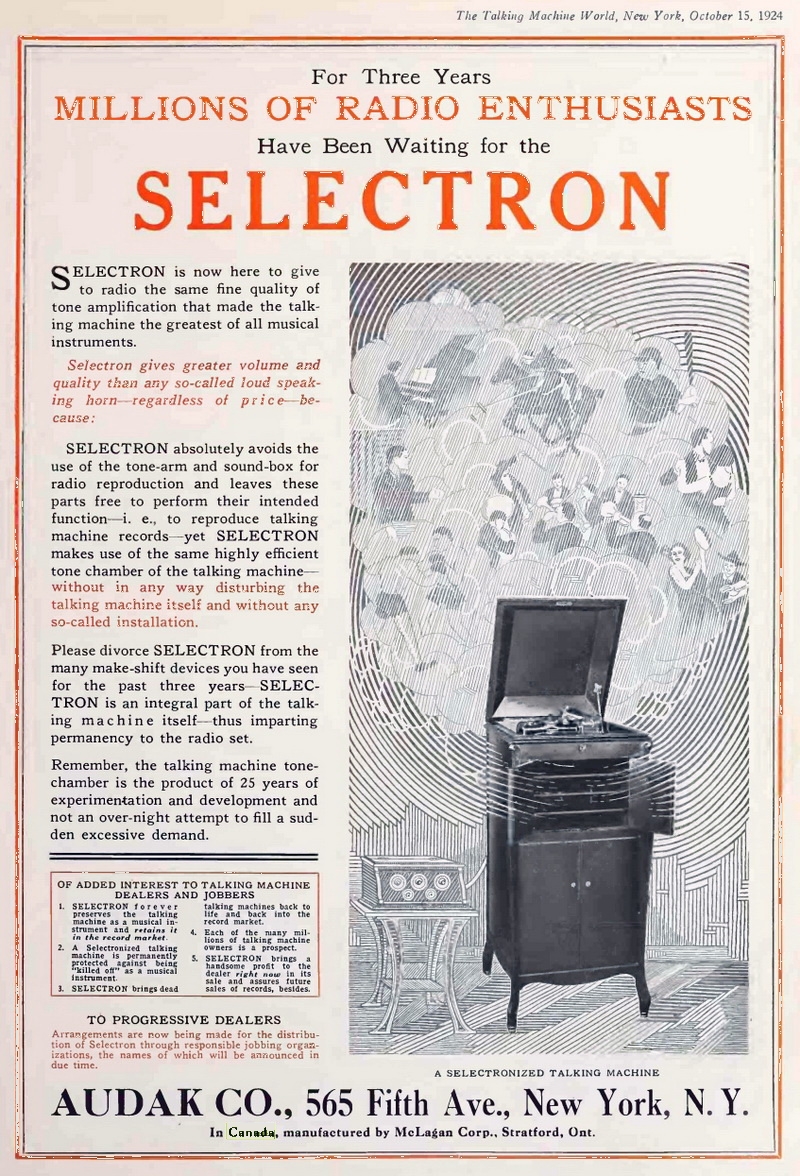 TMW
, December 15, 1924, p. 59.