Talking Machine World, December 15, 1920, p. 119: "William Gunn, of Saginaw, Mich., has purchased the Walker & Clegg factory in Wingham, Ont., and will manufacture talking machines there. This factory is a brick building 188 feet long, with a width of 40 to 80 feet. The heating system is being changed and machinery is being installed. These alterations should be finished very shortly. The product will be known as the Gun-Son-Ola talking machine."

In September 1922, the Gunn-Son-Ola Talking Machine Company was established in Wingham, Ontario to manufacture organs, gramophones, pianos and other musical instruments. Gun-son-ola churned out talking machines and cabinets for almost ten years, at its peak employing 162 people. In 1926, William Gunn died and the company was taken over by his Son, Carlyle Gunn. In July 1928, Gunn-Son-Ola received an order from Stromberg-Carlson for making radio cabinets. When the stock market crashed in 1929, orders dried up and Gunn-Son-Ola was forced to cut shifts. By 1931, the company was insolvent and the buildng was bought by 2 brothers, Moses and Abraham Brown, who started manufacturing oak toilet seats.


---
A Gunn-Son-ola "Concert Grand" upright phonograph in the collection of the Huron County Museum.
---
And here is a pamphlet, collection of Bill & Betty Pratt, undated. 3 images.
Gunn-Son-ola Phonograph Co. Wingham appears in the Canadian Trade Index under Phonographs, 1923-24, p. 445 (Tor. Ref.).
---
Betty also sends these photos from an antique store in Kingston, June 2008. (A model 'V' from above?)
---
In 2010 Dave Yakubowich sent the following pictures of a console machine not listed in the brochure: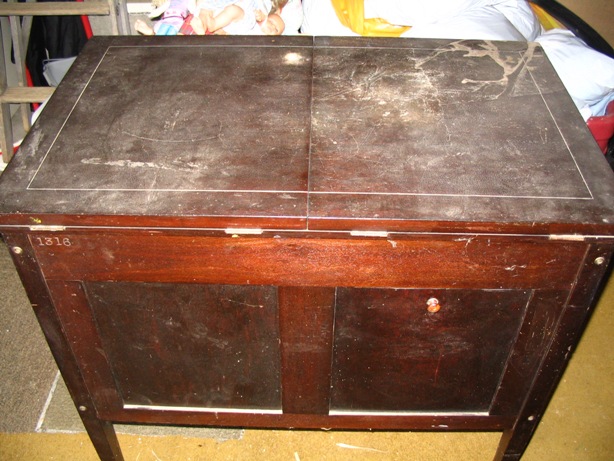 ---
Photos taken in 2010 of a Gunn-Son-Ola console model posted to Flickr by Angelo Minichiello.