Edward Moogk's, Roll Back The Years (National Library of Canada, 1975) p. 63 states: "Another entry from the piano industry was Gerhard Heintzman Ltd. with a new line of premium-priced phonographs. The hardware for its machines came from several sources in the United States, including The Thomas Mfg. Co., Otto Heinman, and Meisselbach."

Talking Machine World, July 15, 1917, p. 39: "Gerhard Heintzman, Ltd., piano manufacturers, announce the completion of the Gerhard Heintzman phonograph. Only the better grade instruments are made. Special cabinets designed to accord with period or exclusive furniture will be made."

Roll Back The Years, p. 118: "The first of two major takeovers of piano firms took place in the fall of 1927 when Gerhard Heintzman Limited announced that Heintzman and Company Limited has purchased its entire business. The Gerhard Heintzman owners expressed a sense of satisfaction in this sale: "The firm of Heintzman and Company and their products have, since pre-Confederation days, enjoyed outstanding distinction amoung the world's piano makers and makes of high-grade pianos." The beginnings of the story can be found in the Encyclopedia of Music in Canada, courtesy Betty Pratt, below.

---
Machine at an outdoor antique sale in southern Ontario, May, 2008 (photos by KW).
---
Advert from outdoor antique show, southern Ontario, August, 2006 (KW). Machine looks the same as above.
---
Letterhead from the collection of Bill and Betty Pratt (dated 1922):
Details (more stylish machine model):
---
Machine pictures by Betty Minaker Pratt from collection of Horst Weggler Jan. 10, 2007: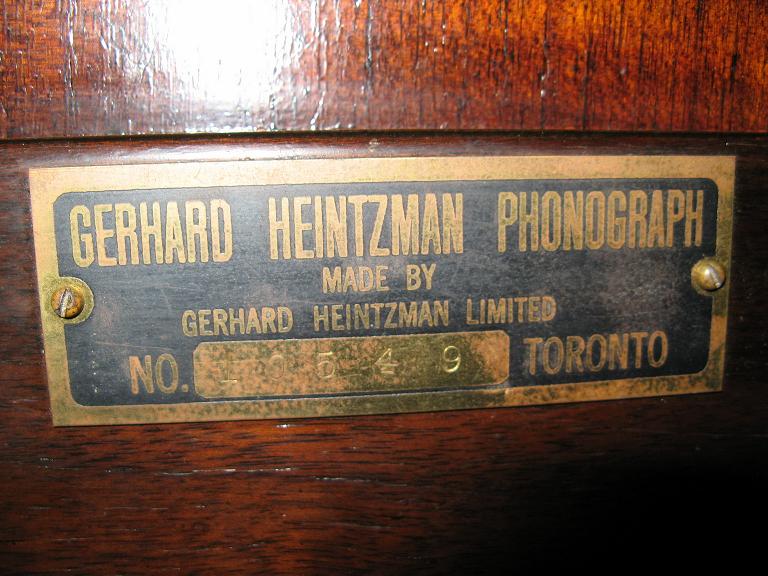 ---
Encyclopedia of Music in Canada
(Author: Elaine Keillor): "Gerhard Heintzman Co. Toronto piano manufacturers. Gerhard Heintzman (b Hanover 6 Oct 1845, d Toronto 8 Oct 1926), a nephew of Theodore Heintzman, moved in 1860 to the USA and in 1867 to Toronto. He established the Heintzman Piano Manufacturing Co in 1877 on Little Richmond St and built 10 pianos by himself. In 1879 he moved to 365 Queen St. He began making pianos - almost a third of his output - for A.S. Nordheimer in 1881, and by 1885 he was employing 50 to 60 people who produced eight pianos a week. The two companies merged ca 1886 as the Lansdowne Piano Co. After Heintzman withdrew from that partnership in 1890, he established the Gerhard Heintzman Co. The factory was located at 63-75 Sherbourne St in Toronto, and in 1892 it produced a dozen upright pianos each week from seven different designs. A grand piano was introduced in the 1890s. The factory was enlarged in 1900 and a recital hall was added. Showrooms were opened at 97 Yonge in 1905 and at 41-3 Queen St in 1909. After Gerhard's death the business was purchased by Heintzman & Co. The Gerhard Heintzman Co produced over 39,900 instruments."
---
Here is a reproduction photograph from the collection of Bill and Betty Pratt (the original photo is from the City of Toronto Archives, No. 122/3, labelled "City Hall Square"). It shows the Gerhard Heintzman piano store, 43 Queen St. West, around WW I. The G. Heintzman store was on the south side of Queen Street West near Bay Street. The large building to the east of it is the old Simpson's store (c. 1896-1923), and the familiar new Bay Tower was built right at the south-east corner of Queen and Bay. The small park with trees, directly in front of Old City Hall (1899) on the north side of Queen, is where the cenotaph (1925) now stands. Adams furniture occupied the site to the east of City Hall Square, on the north side of Queen, and is now under the new tower at the south-west corner of the Eaton Centre.
Adams Furniture began in 1896 at 177-179 Yonge St., next to Robert Simpson, and moved to the north side of Queen in 1902, at which site it sold carpets, appliances and clothing from 1902 until around 1920. Adams also carried many types of portable phonographs, as shown in their illustrated newspaper advertisements during these decades. Eaton's took over the block from Yonge Street to City Hall by 1920. Then Adams moved to 211-219 Yonge Street across from Eaton's remaining there until the late 1950s.
This photo shows some older women walking in long, flowing skirts on a summer day, and a younger girl in a white dress of the mid WWI period. A vintage automobile and horse drawn cart show the contrasts of the time. These features, plus the Adams store, are the bases for our dating the photo to the mid to late teens.
There is a little theatre, once known as the Bay, just to the east of the G. Heintzman store. On its facade are posters with the incongruous advertisements for "Classy Burlesque" and "Temperance", though it's not clear if this refers to early Prohibition ca. 1915. (text by Arthur Zimmerman)
---
Betty also contributes the following advert from the
Toronto Daily Star
Dec.10, 1918: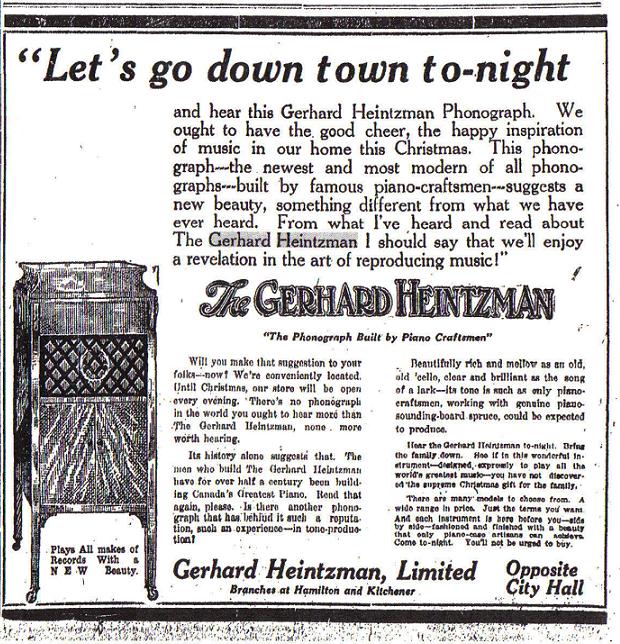 ---
And Betty contributes the following pamphlet with the note: "...the factory shown at 61-75 Sherbourne St., Toronto (see earlier letterhead of Dec. 4, 1922).
This pamphlet (Collection of B. & B. Pratt) does not have a printed date, but is probably before 1921, as the first page indicates 191...". [KW note: Moogk has a picture of the famous "Clock Model" dated 1918, p.62]
---
Pamphlet: Directions for Operating Gerhard Heintzman Electric Auto Stop (Collection of Bill & Betty Pratt)
Two pamphlets: Retail Price List (Collection of Bill & Betty Pratt)
---
Angela from Buffalo, NY contributes the following pictures of her #7180 ...[likely]. It is English Brown Mahogany Model A":
---
Oak model 95 for sale online Feb. 2011:
---
Electrically-driven acoustic-playback machine for sale at Aberfoyle, Sept. 2011 (photos KW):
---
From Lance Husoy, a Gerhard Heintzman for sale in Burnaby, B.C. in 2023.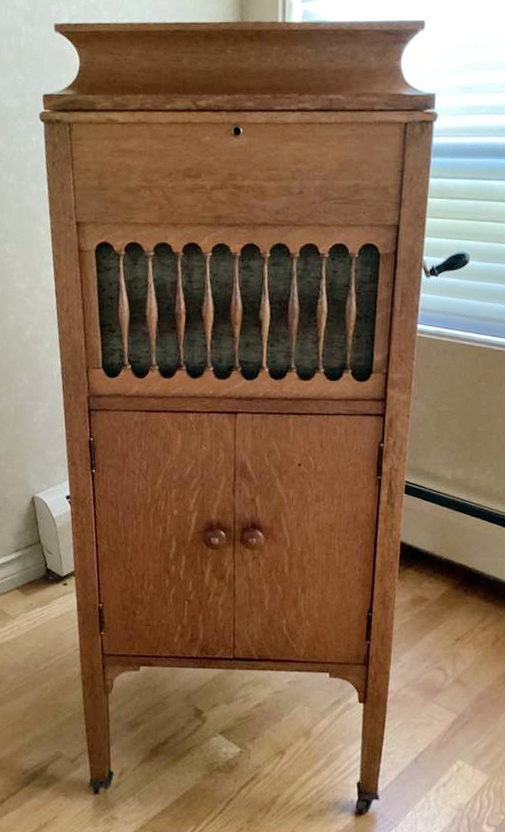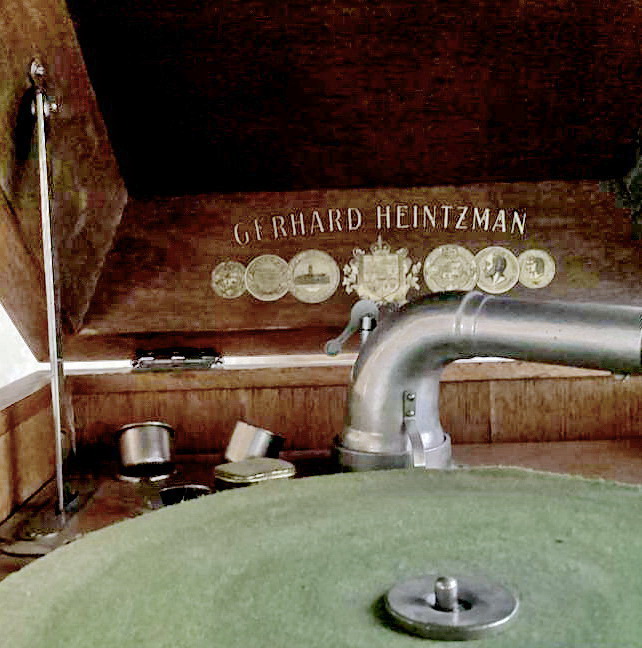 ---
A Gerhard Heintzman console model phonograph.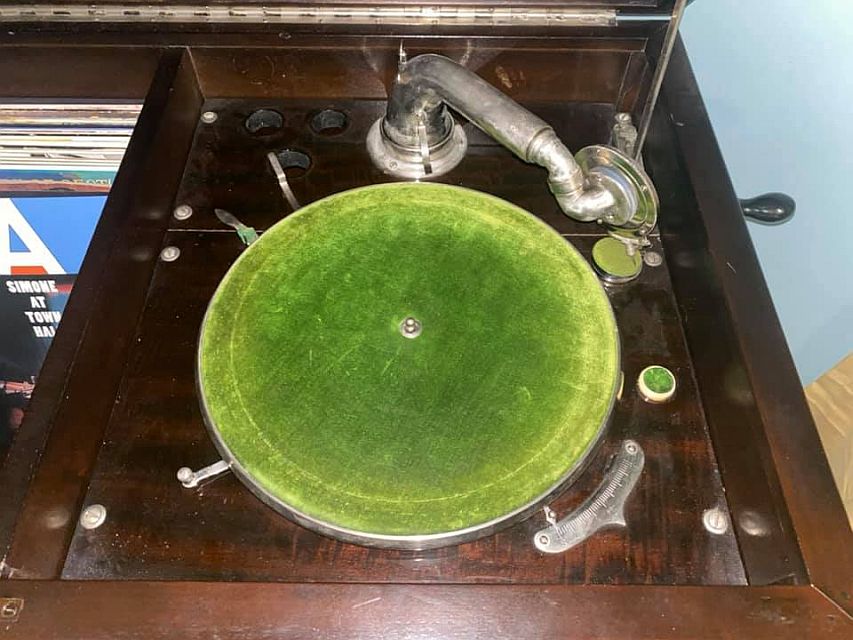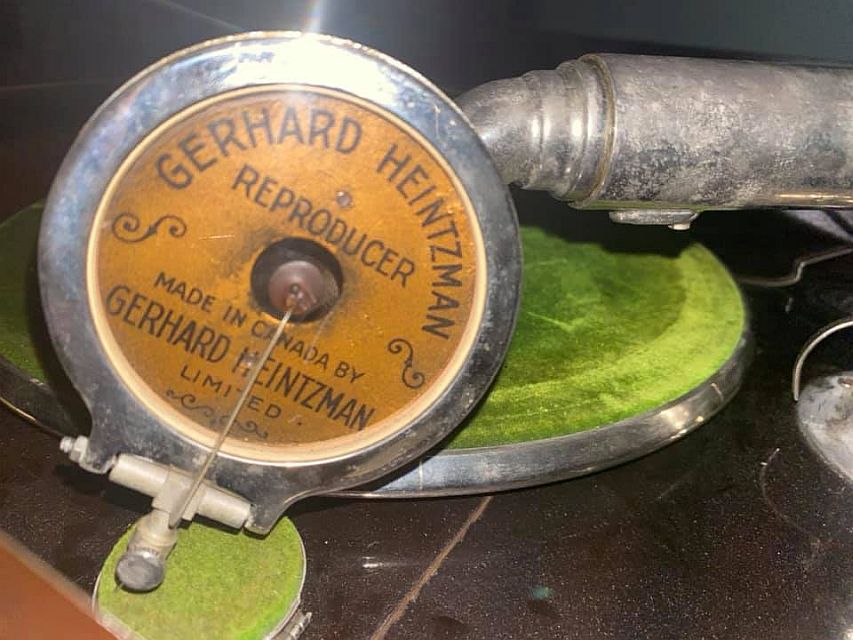 ---
Canadian Music Trades Journal
, August, 1917, p. 114.
CMTJ
, September, 1917, p. 37.
CMTJ
, December, 1917, p. 64.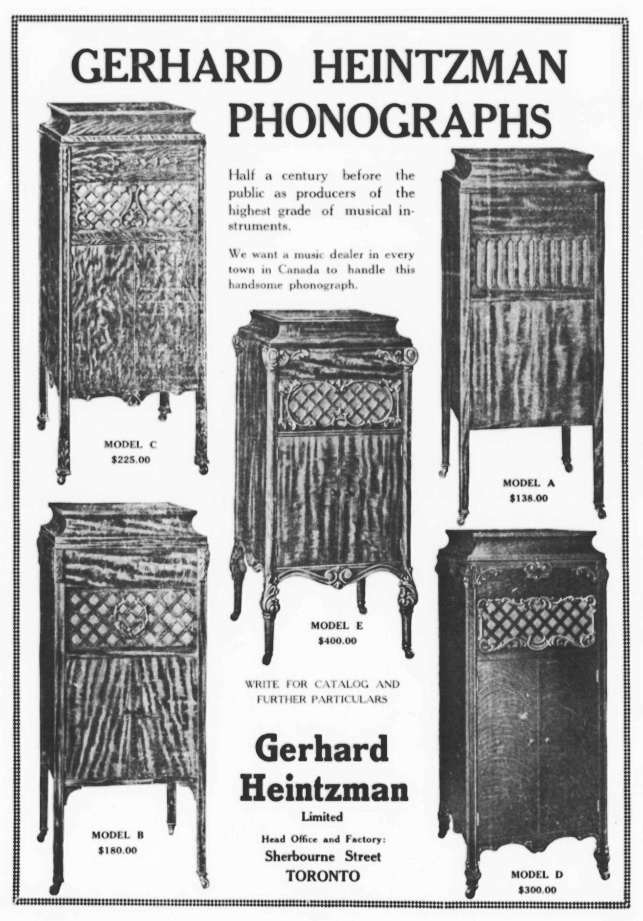 CMTJ
, March, 1918, p. 60. Interior of Gerhard Heintzman Victrola Parlors, Toronto.
CMTJ
, March, 1918, p. 86.
CMTJ
, August, 1918, p. 78.
Ottawa Citizen
, December 21, 1918, pg. 17:
CMTJ
, February, 1919, p.17.
CMTJ
, May, 1919, p. 53.
The Globe
, November 3, 1919, p. 11. Image digitally enhanced by
Hopkin Design
.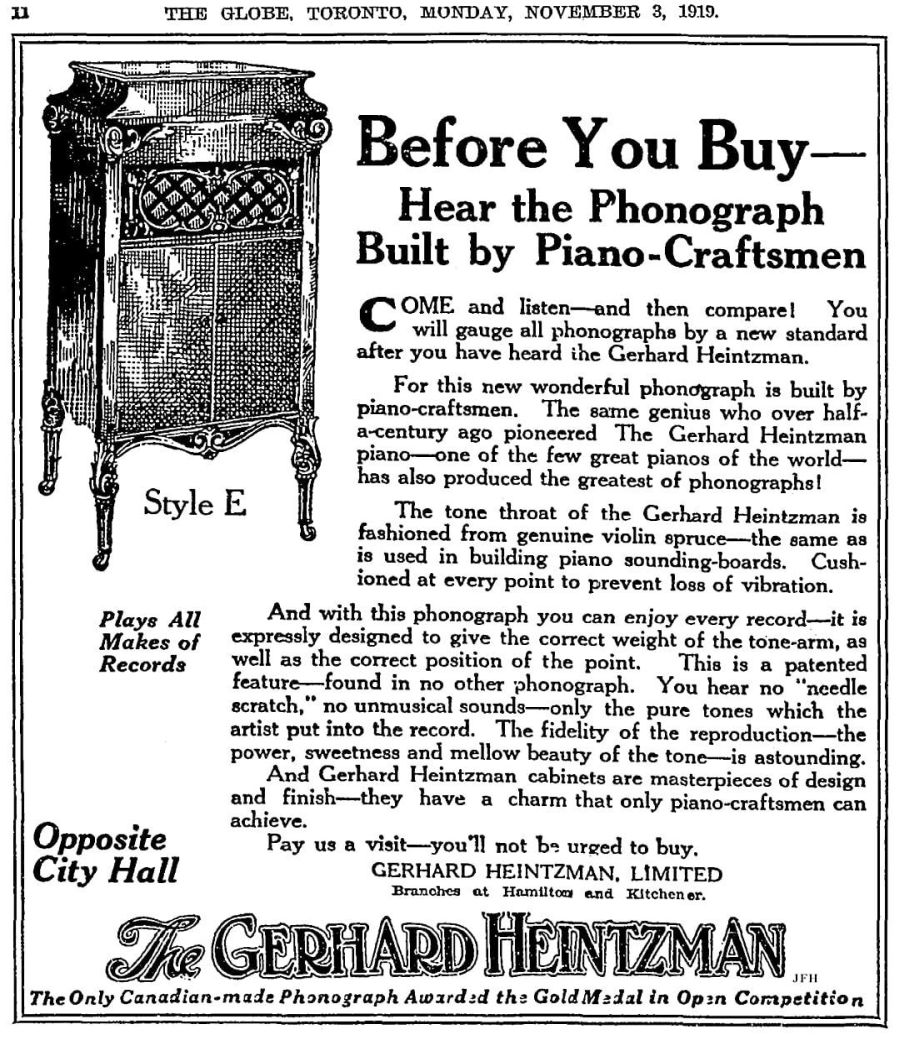 The Globe
, April 15, 1920, p. 4. Image digitally enhanced by
Hopkin Design
.