I put this together into a coherent story for "Antique Phonograph News" in Sept. 2014. It is online here: http://www.capsnews.org/apn2014-5.htm

---
Donalda seems to be an in-house brand, made by one or more manufacturers, for the Hudson's Bay Company and sold out of their 'department' stores west of Ontario. A possible supplier, being local to Winnipeg, would be the
Chopin Piano and Talking Machine Co.
The Donalda surprisingly had a version with an electric motor. Like the European 'Melba' marque, they may be named after a notable, local (to Canada) opera singer, Pauline Donalda (b Lightstone). Ms. Donalda went to Paris and studied voice in 1902 on a grant from Donald A. Smith (Lord Strathcona) who at the time was Governor of the Hudson's Bay Company. She later went under a stage name honoring her benefactor. Info from Encyclopedia of Music in Canada.
Picture courtesy wikipedia:
---
The email received that started this page:
My mother bought a cabinet gramophone, around 50 years ago, from a Salvation Army Store in Winnipeg, Manitoba,. It stands on legs, has storage for records on the left side and a drawer on the bottom. It is marked with the Hudson Bay Company Logo on the inside, and also a Donalda logo as well.
Lynn Houde
---
Pictures of Lynn's console Donalda: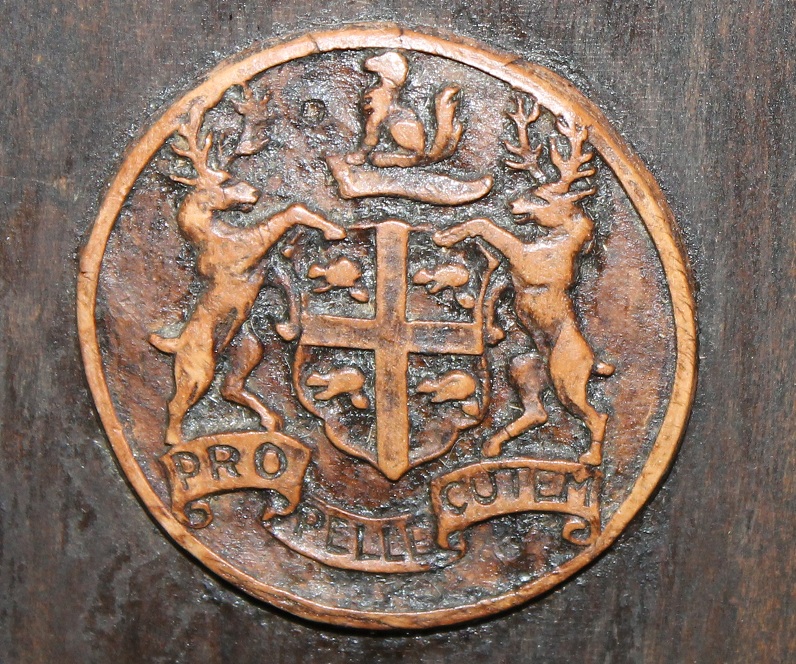 ---
Calgary Herald
, October 11, 1920, p. 18.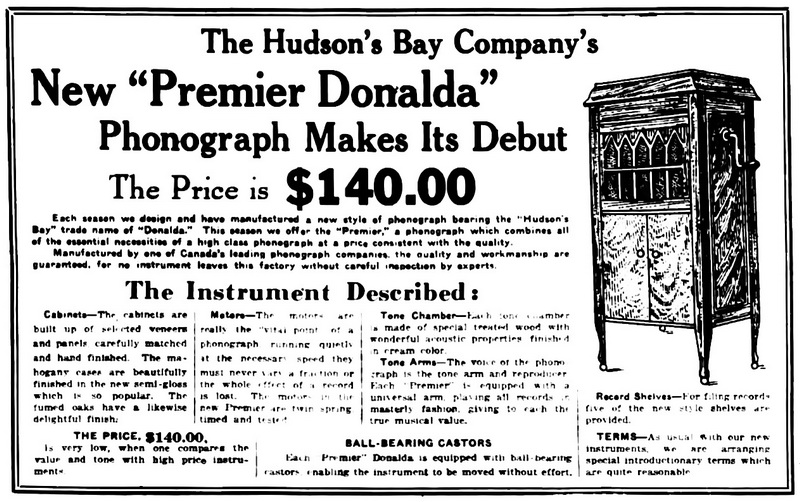 ---
Winnipeg Tribune
, August 31, 1921, p. 10.
Winnipeg Tribune
, December 10, 1921, p. 12. Hudson's Bay ad. "Exclusively a Hudson's Bay product. It is made in Winnipeg under our supervision."
---
KW found the following adverts:
Saskatoon Phoenix
, August 11, 1922 pg. 12:
Details taken of the models below:
Calgary Daily Herald
, February 3, 1923, pg. 24 has reference to a 'Puritan' model:
Calgary Daily Herald
, January 5, 1923, pg. 24 has reference to a 'Moderne' model:
Calgary Daily Herald
, October 16, 1922, pg. 18 has reference to a 'console' model with an electric motor:
Calgary Herald
, September 10, 1923, pg. 16 pictures the 'electrically operated console':