Roll Back the Years, by Edward Moogk, National Library of Canada, 1975 states on page 64:

"However, Ontario did not have a monopoly on the [talking machine] business...An Eastern Canada representative was Amherst Pianos Ltd. of Amherst, Nova Scotia, with its six styles of the Cremonaphone. It took its name from "the new violin idea, resulting in the most pleasing results in the quality and volume of tone." The company claimed it could produce 200 machines a month."

In the index Cremonaphone is listed as "Cremonaphone (1917)".

Shirley Nickerson of the Cumberland County Museum and Archives (in N.S.) sends the following about the company (and pictures further down of their model 'F'?):

"The Amherst Piano Factory, which operated from 1913 to 1928, produced 2,500 units annually with markets being in the West Indies as well as throughout Canada. It closed in 1928 due to increased freight rates, but the pianos can be still found in the Amherst area and have become some of the most recognized artifacts of the town's history."


---
Norman F. Brooks wrote an article on Cremonophones in the September-October, 1998 issue of the Canadian Antique Phonograph Society publication,
Antique Phonograph News
. He was kind enough to contribute much of the material on this page. The following scans are from the aforementioned
APN
issue: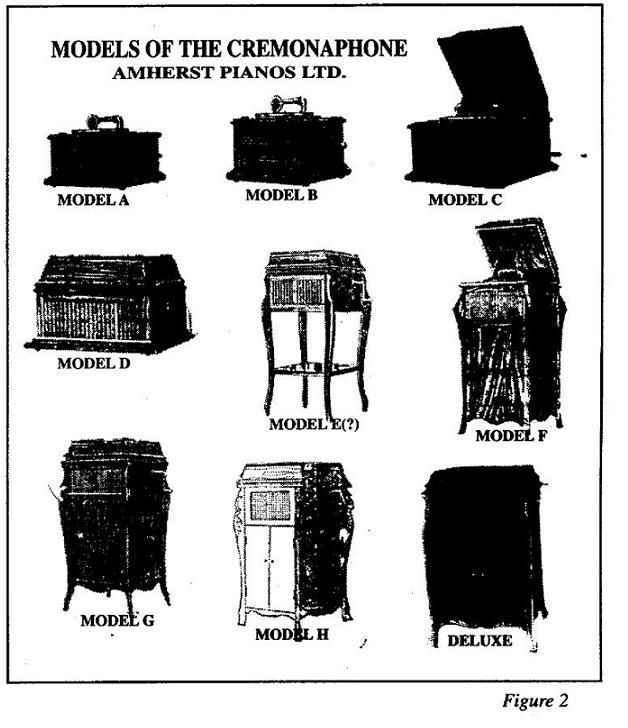 Norman sends the following 1917 'launch' advert: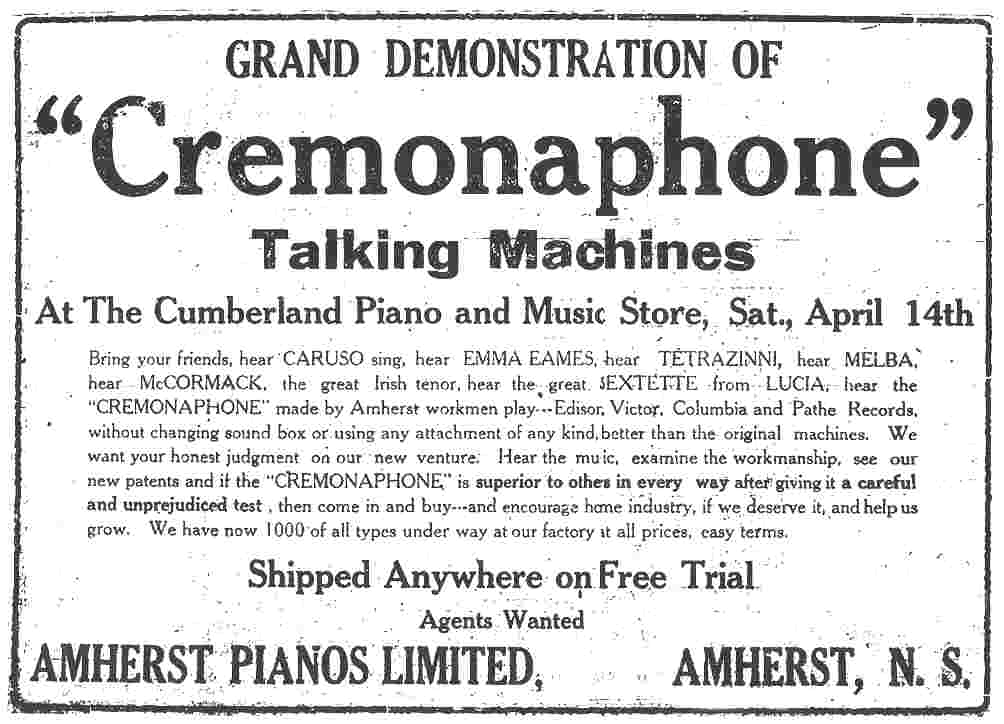 Canadian Music Trades Journal
, August, 1917, p. 17.
Toronto Daily Star
, two articles about Cremonaphone at the Canadian National Exhibition (CNE) in Toronto in 1919 - September 1 p.9 and September 3 p. 1.
And this advert from 1919
Family Herald & Weekly Star
, Montreal (as he points out, a model 'C' with the different trademark as shown below with the other Cs) (NB):
Canadian Music Trades Journal
, April, 1920, p. 35.
And this 1921 ad for the 'Deluxe' (NB):
A picture of an Amherst Piano promotion ruler (NB):
The following picture of the factory from an early post card (NB):
And "a photo of the branch in Saint John N.B., which from my notes indicates the early 20's" (NB--he has it labeled as 1923):
---
From Norman Brooks info the following machines would be model 'C'.
---
Here are a couple of screen shots from two videos, at "The Virtual Gramophone" of Library and Archives Canada, showing opening up the 'roll top' front (similar to a roll top desk) and showing the arm, missing from the example photographed by KW below:
---
This table top was available for sale in Barrie in December, 2009 and again is likely a model 'C' (photos by KW):
Roll top front 'volume control':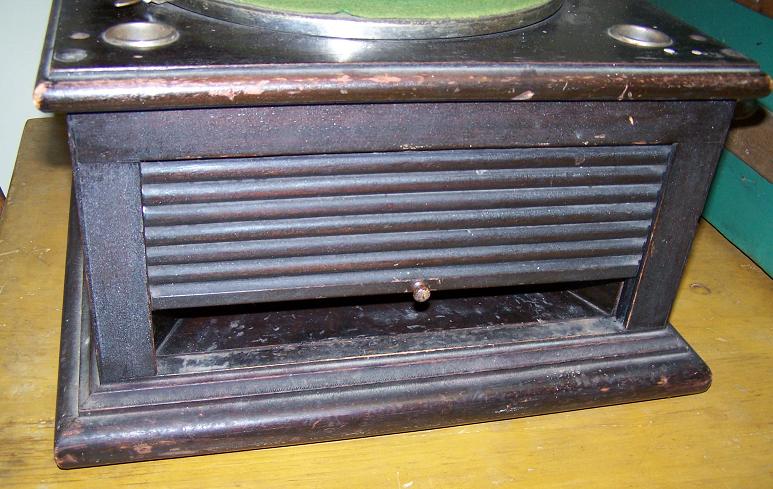 Sorry, this is not in focus. I didn't notice until we had left.
This model 'C' was previously in the collection of 'Retro Today'
Norman Brooks sends this picture of an alternate trademark from another model 'C' (very much the violin--or 'cremona'--look):
---
Model 'D' picture from Norman Brooks:
---
Model 'E' picture from Norman Brooks:
---
Model 'F' picture from Norman Brooks:
He also sends this 1923 receipt for the same model (and a dozen records):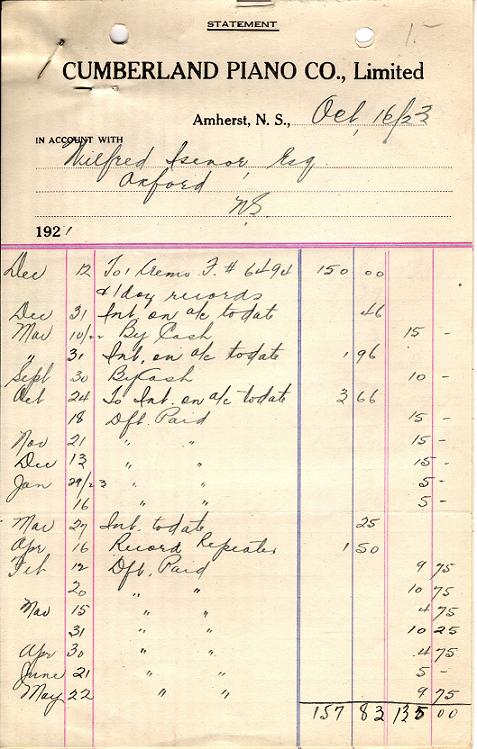 ---
Shirley Nickerson of the Cumberland County Museum and Archives kindly sent along the following pictures of the model 'F'(?) in the museum's collection:
---
Model 'G' pictures from Norman Brooks:
The inside of the horn showing the 'cremona' part of cremonaphone:
The soundbox: