Roll Back the Years, by Edward Moogk, National Library of Canada, 1975 states on page 63: "Also in Toronto [during 1916], the Cecilian Concertphone made its debut, with distribution handled by the Musical Instruments Ltd. at 247 Yonge Street..."

Talking Machine World, August 15, 1918, p. 53: "The Cecilian Co., Ltd., Toronto, of which John E. Hoare is the head, are now located in their new factory at 89-91 Niagara street. In addition to the manufacture of Cecilian and Farrand pianos and players the Cecilian Concertphone will also be manufactured in this factory for Musical Instruments, Ltd."

Betty Minaker-Pratt contributes: "Wayne Kelly's book, Downright Upright p. 120 says that Stanley took over the Cecilian Piano Co. in 1922, but then went out of business two years later when Mason & Risch bought out their stock.

KW adds that the same book on page 102 states: "Cecilian Piano Company--Toronto, 1904-22. An apparent manufacturer of player pianos only, this company had its product sold and distributed by Heinztman from 1906. The company was bought out by Stanley Pianos in 1922."

Moogk, page 91, agrees that : "The general economic situation [of 1921-22?] was still affecting the value of the dollar, and at least one piano and talking machine firm, the Cecilian Company, was taken over by Frank Stanley, a veteran of the player-piano business."

Betty Minaker-Pratt contributes the following: "Cecilian Piano Co. Toronto, 1904-22. There is an advertising cover stamped 1917 for the Cecilian Co., Salesrooms 247 Yonge St./Factory 1189 Bathurst (just north of Dupont)."

---
Cecilian upright phonograph with oak cabinet for sale at Ye Olde Shoppe Antiques.
---
The following photographs were take by Betty from John Peel's collection in Port Hope in August, 2007.
---
The following were supplied by Adam Miron in 2013: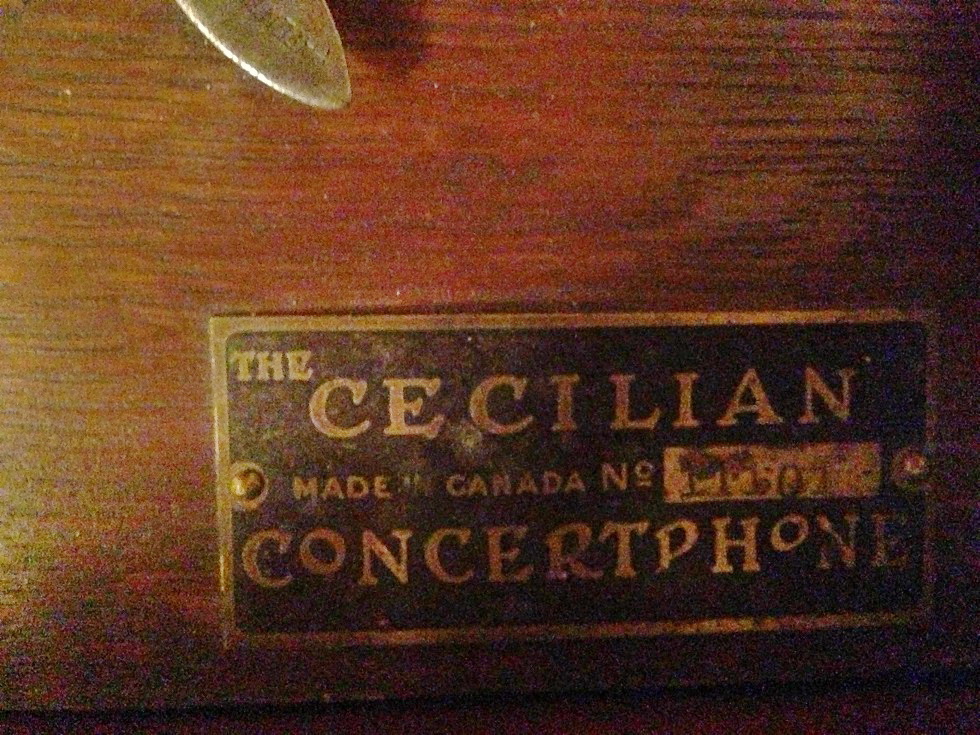 ---
This portable was for sale In Toronto in November, 2008 (photos by KW):
---
The following ephemera are from the collection of Bill and Betty Pratt:
---
Toronto Daily Star
, December 15, 1916, p. 28 December 22, 1916, p. 17. Two very early Cecilian advertisements - "Made in Canada".
---
Toronto Daily Star
, December 19, 1916, p. 4, and an ad in a band concert programme at Massey Hall (Toronto), November 30, 1916.
---
Canadian Music Trades Journal
, April, 1917, p. 69. The Cecilian Company's salesrooms in Toronto.
---
Parts machine for sale in Toronto, Nov. 2009 (photos by Arthur Zimmerman). Betty Pratt found reference to the 'Russell Gear and Machine Co." in
Encyclopedia of Recorded Sound, Volume 1
by Frank W. Hoffmann: "Of the earliest Australian-made gramophones...others were…and the Concertola—the motor of which was made by the Russell Gear and Machine Co. Ltd., of Toronto, Canada. Tommy Russell was a general manager for the iconic Canada Cycle and Motor Co. (CCM) and diversified to include Russell Motor Car Co., Russell Gear & Machine, and Canadian Acme Screw & Gear.
Motor...
---
Article from
Toronto Daily Star
, September 3, 1919 p. 1. The Cecilian Concertphone is on display by the Cecilian Company at the Canadian National Exhibition in Toronto.
---
Advert from
Canadian Home Journal
, December, 1919 p. 22:
The Globe
, September 25, 1920, p. 7. Image digitally enhanced by
Hopkin Design
.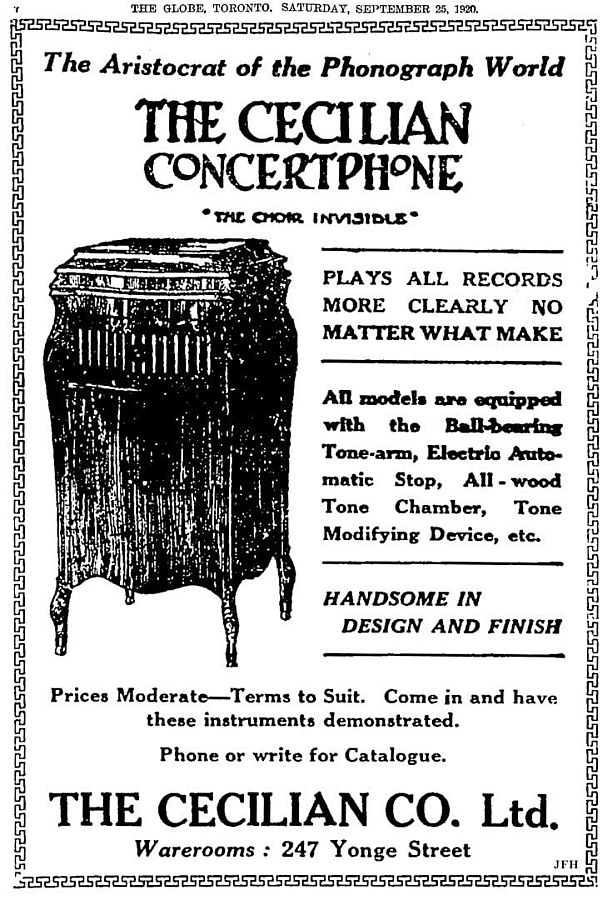 ---
Advert from the
Quebec Telegraph
, Sep. 21, 1921, pg. 19:
---
Steve Valeriote sent the following pictures of his tabletop Cecilian--of which he has beautifully restored the exterior.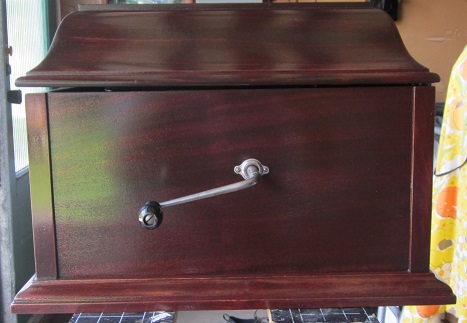 Electric braking mechanism?
Here is Steve's machine in action! -
https://www.youtube.com/watch?v=99npGNzsvh0
---
Cecilian Melophonic portable.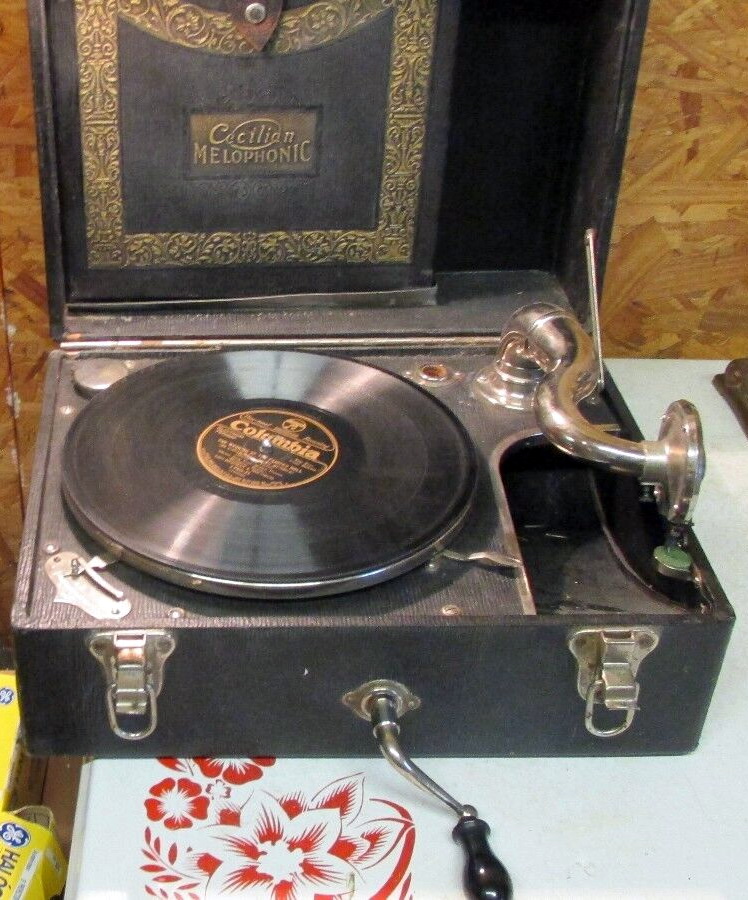 ---
Matthew Davidson writes in 2023: "There is only one place where I've seen gramophones for sale in Nova Scotia. It is at The Great Village Antiques Mart, formerly R.F. Layton, General Merchant store in Great Village, NS, about 1 hr 15 min from Halifax."