Edward Moogk's Roll Back The Years (National Library of Canada, 1975) on p.19:

"Emile Berliner patented his gramophone in Canada for two reasons: he was anxious to establish a base for the protection of his patents, the rights to which he had surrendered in all other countries, and he wanted to prepare a selection of records for the French-Canadian market."

From Mark Caruana's The Berliner Gramophone: an Illustrated History (Domenic DiBernardo, 2005):
-after a series of court battles Berliner, the inventor of the disc record gramophone, struck a deal with Eldridge Johnson to take ownership of the disc machine patents
-on October 3, 1901, The Victor Talking Machine Company was founded
-Berliner held shares in Victor and a number of his machines would continue to be sold in the United States but they were now products of Victor, controlled by Johnson

Contemporary death notice with biographical details: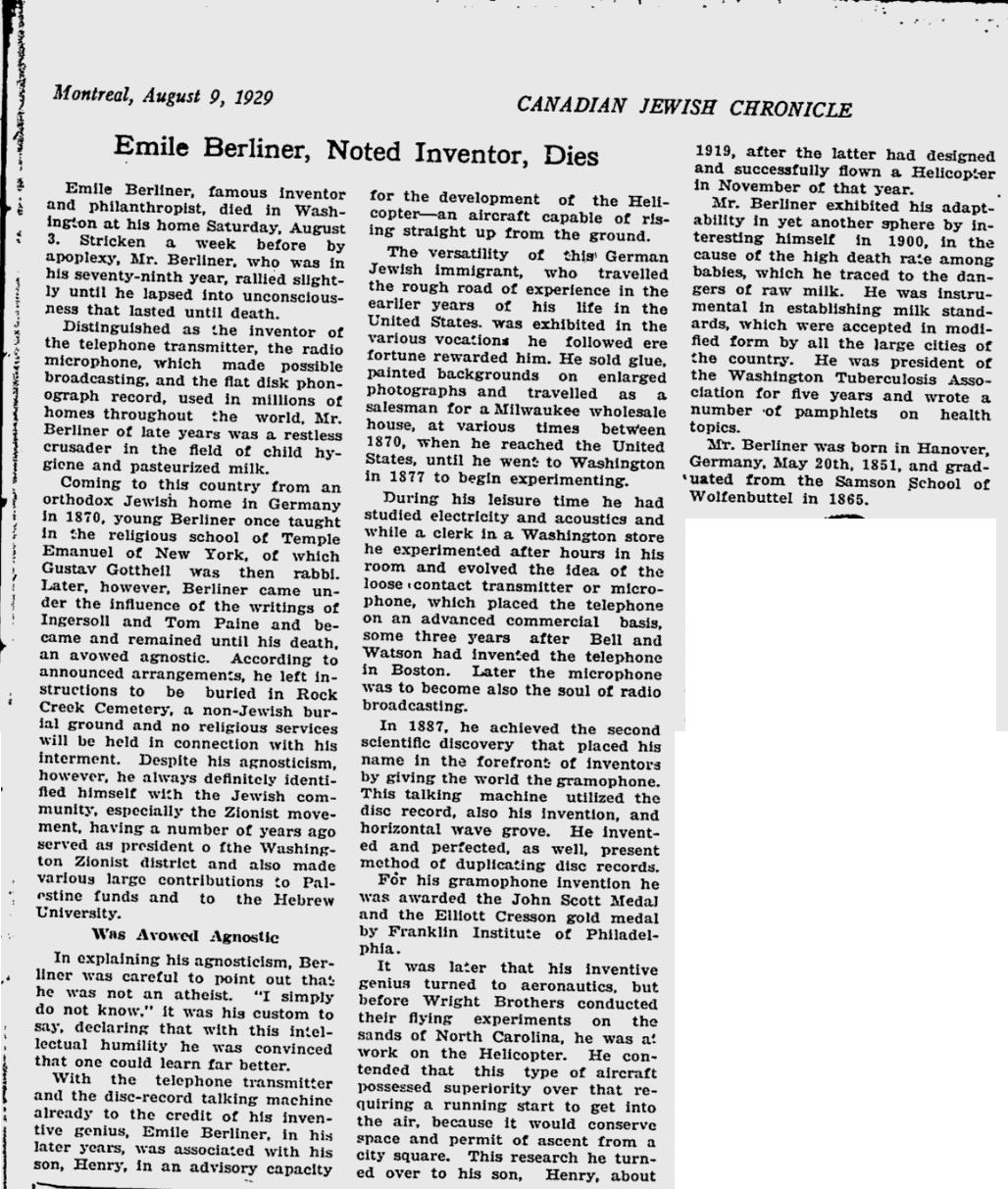 ---
Notice to Canadian competitors that the patents will be defended.
Toronto Daily Star
Jan. 11, 1908 pg. 11.

Drawing from the earliest of the Canadian patents listed above that currently have drawings available through the Canadian Intellectual Property Office (last patent listed above):
Example of patent case by Berliner,
Toronto Daily Star
Feb. 24 1910, pg. 1:
---
Advert from
Toronto Daily Star
, Oct. 17 1903 p. 19.
Advert from
Montreal Gazette
, Nov. 2, 1908 p. 5.
Toronto World
, Oct. 30, 1915 p. 6. Berliner wins libel suit accusing him of 'strong arm' sales tactics.
---
The below pictures (unless otherwise stated) and information are courtesy of
The Berliner Gramophone: an Illustrated History
with permission of the author, Mark Caruana, and publisher, Domenic DiBernardo.
The following pictures are from the Domenic DiBernardo Collection and are all copyright. He has a website at
http://mrgramophone.com/
---
Model 'A'
-introduced in 1900 at a price of $15
-early versions--serial numbers up to the low 2600s--have a coloured decal with serial number stamped below
-later versions have the emblematic stamped aluminum plate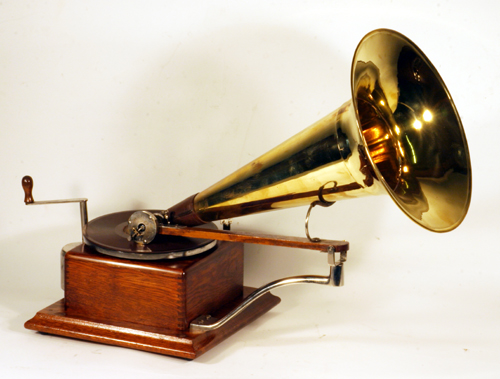 Plate from KW's later model 'A'
---
Model 'B'
-early version with nickel trim under turn table
---
Model 'C'
-largest machine marketed by Berliner in Canada
-aptly name 'Grand' with oak version selling for a comparatively-high $45
-came in mahogany
-or oak
---
Model 'D'
-similar to an 'A' with the cabinet enlarged to hold the motor
---
Model 'E'
-early version predictably called the pyramid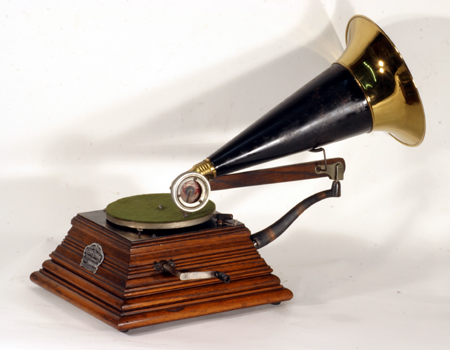 -late version sold as the 'Bijou' for $22
---
Scans from a 1902 Berliner catalog showing the 'A', 'B', 'C' and 'E' machines (plus available parts etc.) can be found
here.
---
Model 'F'
-similar to an 'E' but with 8-inch turn table and no tone arm
---
Model 'G'
-came in ornate oak
-or a plainer mahogany
<
---
Model 'GT'
-similar to a 'G' with the 'T' likely indicating rear-mounted tapering tone arm similar to Victor
-also has id plate resembling that of Victor's 'Nipper' plate
---
Model 'H'
-late addition when rear-mounts were available with holes pre-drilled to allow rear-mount upgrade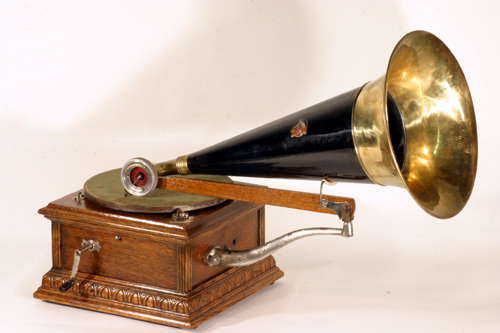 ---
Model 'J'
-two versions
-one with 10-inch turn table, rear mount and plain case
-or 12-inch turn table and ornate case, rear mount
-or front mount
---
Model 'K'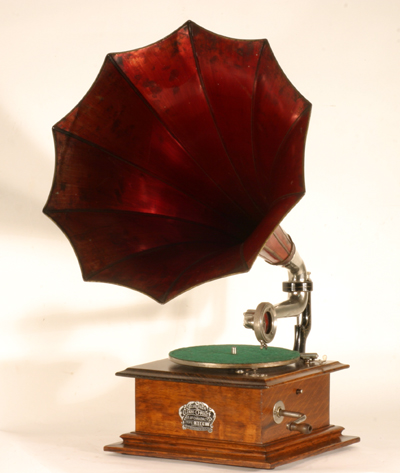 ---
Model 'LT'
-essentially a rear-mounted 'F'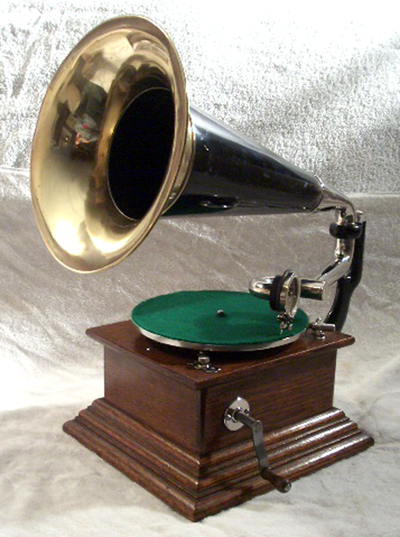 ---
Model 'P'
-similar to Victor 'P'
---
Berliner record, collection KW:
For more information regarding Berliner records, please see the Canadian Antique Phonograph Society article by Steven C. Barr at:
http://www.capsnews.org/barrber.htm
---
Later machine labelled as 'Victor' from Berliner's Montreal facilities. VV III does not exist in American Victor lineup (picture from the front shows a recording attachment--pictures by Cheryl Wright):
---
Needle tins and trays:
Below photo by Cheryl Wright: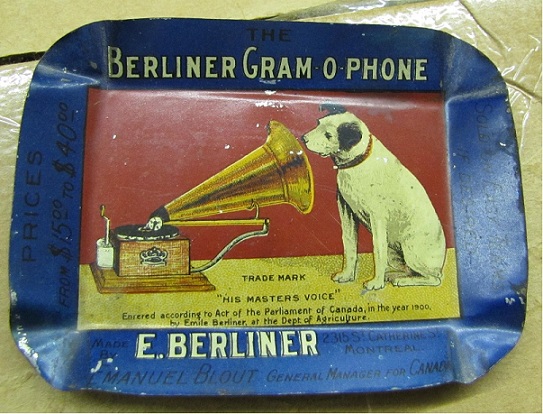 KW later paper needle pack:
KW example of later common Canadian needle tin: