Talking Machine World, February 15, 1922, p. 123: "The Apex phonograph. to retail at $100.00, is being announced by the Sun Record Co., of Toronto, Ontario distributors of Apex records."

---
Toronto Daily Star
, April 14, 1924, p. 29. A classified ad for the $100.00 Apex phonograph.

---
An Apex phonograph for sale in Toronto, 2022.
---
Edward Moogk's
Roll Back The Years
(National Library of Canada, 1975) on p. 89 states: "From its inception in 1918, the Compo Company pressed the Phonola and Star-Gennett record lines...[the] new Sun label hit the market in May 1921... On September 2 [1921], the first announcement of Compo's Apex label was made:"
On page 104:
On page 110:
"At the same time [at the 1926 Canadian National Exhibition], the Sun Record Company was making some big claims for the Apex Electrophonic:
"The new Apex Electrophonic is unmatchable in value. It is handsome in design and beautifully finished in Burl Walnut or Figured Mahogany. It has depth and volume of tone, rich sweet, and sonorous, and brings out everything in the record. "Every quality that research and inventive genius has been able to produce for the perfection of sound production is in the New Apex Electrophonic. It has added features not found in other makes and is ABSOLUTELY GUARANTEED."
Talking Machine World
, December 15, 1926, p. 140: "The Compo Co., Ltd., Lachine, Que., are adertising quite freely in various dailies, weekies, etc., throughout Canada, introducing the Apex Electrophonic, which it advertises as a phonograph which interprets "the very soul of music.""
---
The Montreal Star
, December 3, 1926, p. 25
The Globe
, March 30, 1928, p. 2
---
Machine at an outdoor antique show September 2006, southern Ontario (photos by KW).
---
Needle tins from KW collection: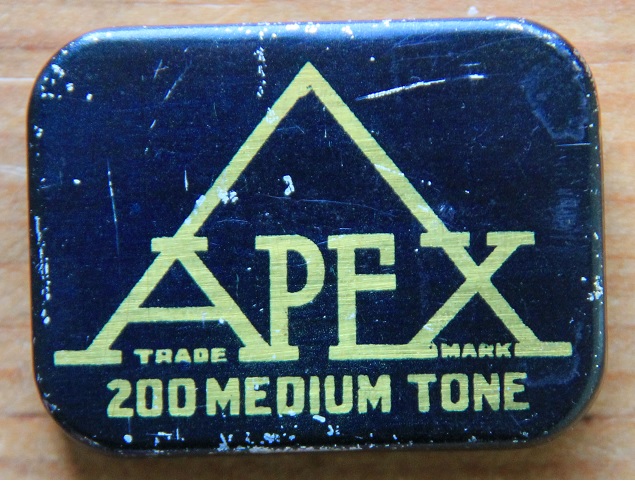 ---
Information on Compo (especially record manufacturing) available from from Steven C. Barr via the Canadian Antique Phonograph Society here:
https://capsnews.org/barrcom.htm
---
Moogk also mentions on page 110:
"Meanwhile the sale of portable gramophones, first promoted during the war years, rose to new heights in 1926...Compo sold three models of the Pal, with prices from $17.50."
The following is from a 1926 Eaton's catalog, sent by Ken McPherson, April 2013:
---
Shelby Sim of Sarnia sent these pictures of a 'Pal Jr.' portable with a Thorens motor in 2009. This is more likely to be a product of the Plaza Music Company of New York using Thorens parts. Description
here
: