"Ampliphonic" was a popular name for an orthophonic-style talking machine that came on the market in 1926. Charmaphone Company, New York, introduced a "new type phonograph" labelled Ampliphonic. Norman Brooks, in his 1998 article, The Cremonaphone Story, for Antique Phonograph News, refers to "a small 6" cardboard ruler that is in the collection of the museum in Amherst, N.S. Probably used as a promotional item, the ruler states that Amberst Pianos Ltd. are manufacturers of Ampliphonic Talking Machines. (see Cremonaphone page) In the same article, Norman mentions that "the Canadian Trade Index for 1928 lists the National Cabinet Co. Ltd., of Toronto, as having the phonograph brands of Beverly and Ampliphonic!" It seems likely that the Ampliphonic advertised in Toronto newspapers was manufactured locally.

The Ampliphonic phonograph was introduced to the public in Toronto in a display ad in the Toronto Daily Star, June 17, 1926 p. 2, by the F.C. Burroughs Furniture Co., Limited, Queen at Bathurst, Toronto. It was later advertised extensively by the R.S. Williams & Sons Co. Limited.

---
Canadian Trade Index
, 1928, listing the brand "Ampliphonic" under National Cabinet Co. Limited, Toronto. (courtesy of Norman Brooks)
---
Toronto Daily Star
, June 17, 1926, p. 2
---
Followed by several ads by the R.S. Williams and Sons Co. Limited, 145 Yonge Street, Toronto:
Toronto Daily Star
, October 5, 1926, p. 13
Toronto Daily Star
, October 7, 1926 p.16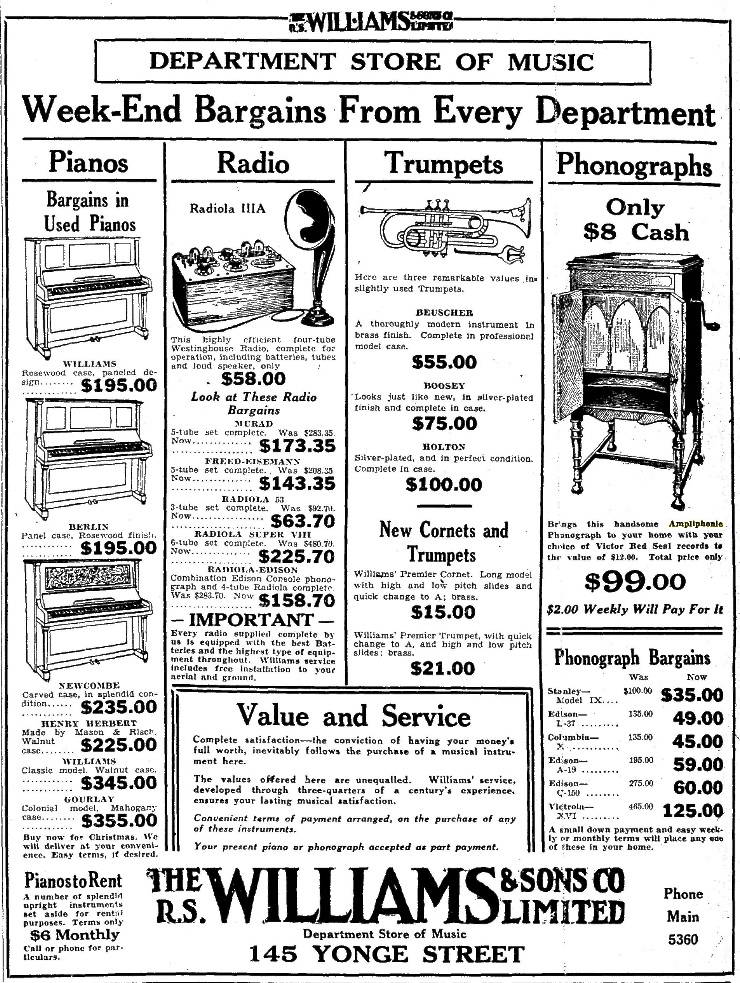 Toronto Daily Star
, December 21, 1926 p. 10
Toronto Daily Star
, December 19, 1929 p. 48: used phonographs for sale by the Newcombe Piano Company Limited, 950 St. Clair West, Toronto including an Ampliphonic.
Lethbridge Herald
, March 29, 1930, advertising a 1930 model Ampliphonic. (courtesy of Norman Brooks)